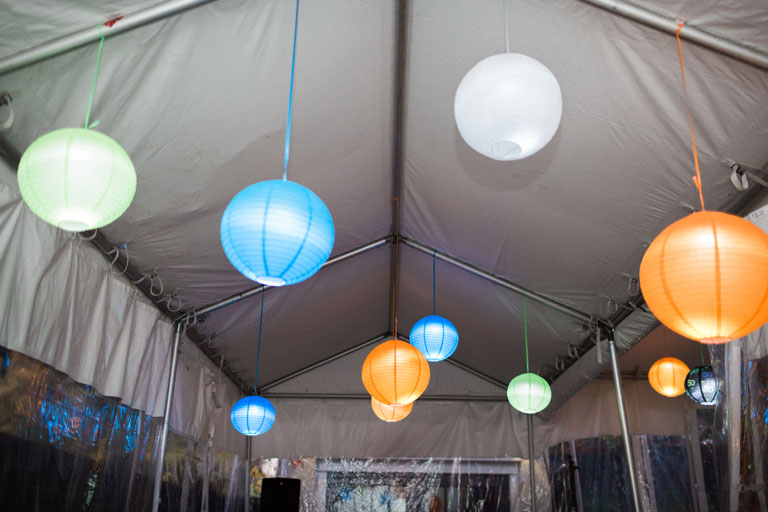 Tents have been a crucial element of outdoor weddings and festivities because of their versatility and customizability. It combines space, fresh air, style, and flexibility. As we continue to adapt our celebrations to the new normal, tents and events will likely be a common arrangement moving forward.
Whether it's part of your overall theme or simply a backup plan in case it rains, there's so much more to tenting an outdoor party than just putting it up and pushing through with your plans. Tents can be somewhat complicated — from the styles and sizes to their space requirements. Fortunately, it does not have to be a hassle.
Here's all you need to know about renting the ideal tent for your special occasion.
Why Use a Tent
If you're having an outdoor event, you'll need to plan for inclement weather unless the venue has a suitable indoor alternative that can accommodate all of your guests.
Even if it doesn't rain, a party can be ruined by extreme heat. A tent allows you to have a party almost anytime and anywhere. Rather than booking a banquet hall, host your celebration in a garden or at a special location, like at the beach.
Even if you only intend to use the tent if it rains, you should still plan ahead of time — last-minute preparations or the last two days before your event may not be enough to keep everything in order.
What to Consider
When you go to a tent rental service, here are a few things you need to take into consideration: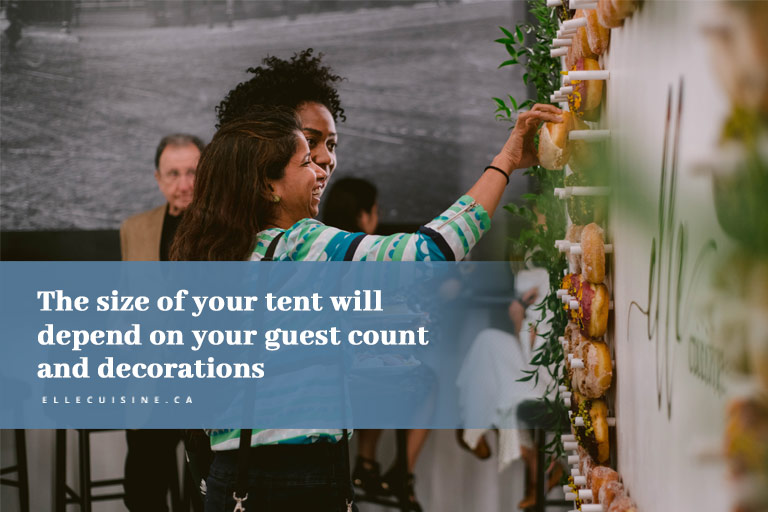 "What size should I get?" is the most common question anyone needing a tent asks. You can't begin pricing out tent rentals unless you know the size you need. You need to take into account the number of guests, the furniture, like tables and chairs, and other decorations. If you need space for the buffet, the staff, and even the dance floor, you need to include it in your estimation.
Tents can be made to fit events of every size, from a small backyard gathering to a 1,000-person banquet. If you'll have both dinner and dancing inside the tent, allot between 20 and 25 square feet per person. If it's a dinner-only event, you can allow 18 to 22 square feet per guest.
Having options is great, and it is to your advantage to ask event tent rentals for alternatives. Event tents are usually divided into two types: pole tents and frame tents, but there are a variety of other possibilities you can choose from that would fit your special day, such as:
Marquee Tents

Tension Pole Tents

Sailcloth Tents

Clear Tents
Event tents may not come cheap. The price depends on additional services, guests, and preferences. You may avoid site fees and the expensive and time-sensitive setting up and breaking down of tents if you pitch your tent on private property. Having on-site restrooms, power and water source, as well as space for your catering team to cook, will help keep prices low. You can also trim your guest count to keep your tent simple and on the budget and choose simple decorations over lavish ones.
A tented event is advantageous since can take place practically anywhere. If you'll be renting out a space, make sure to inquire about the requirements for constructing and dismantling. Some venues could be fully booked with events, giving you a short period to set up. Discussing timing with them can help you understand what is achievable for your special day. Any restrictions can result in increased delivery charges and labour rates to carry out your vision. If you are hosting your event at your home or a family member's home, you will have more flexibility but may need a little more work. Site inspections can be undertaken to examine the ground level, accessibility challenges, and overhead interferences such as tree limbs and electricity lines.
There are only a couple of month-long windows of excellent weather in Canada. Depending on the weather, you may need to book a heavy-duty event tent, plus some additional features to ensure your event goes without a hitch. The best months for outdoor activities start in April until October. During these dates, venues can easily reach full capacity, however. As a result, you need to make a reservation as soon as possible. 
Do You Need Add-ons
When you're looking around, make sure you get a quote that includes delivery, set-up, any accessories, any required fire/zoning permits, and take-down. But don't forget to ask about add-ons.
When you're holding your event in the middle of a hot summer day, comfort from the sweltering heat is necessary. But, take note, this can become incredibly expensive. Tents aren't sealed or insulated like buildings, so air conditioning will demand more power. The larger the tent, the more AC you'll need. Getting tent air conditioning also entails renting and paying for large generators. 
It's not possible to just lay the carpet on the grass. After about 20 minutes, it'll look raggedy and ugly, plus it'll be a tripping hazard. Also, if your land slopes, the cost will rise dramatically due to the additional effort required to set up. If flooring the entire space is beyond your budget, prioritizing important spaces, like the dinner tables or creating a small dance floor, would be far less expensive.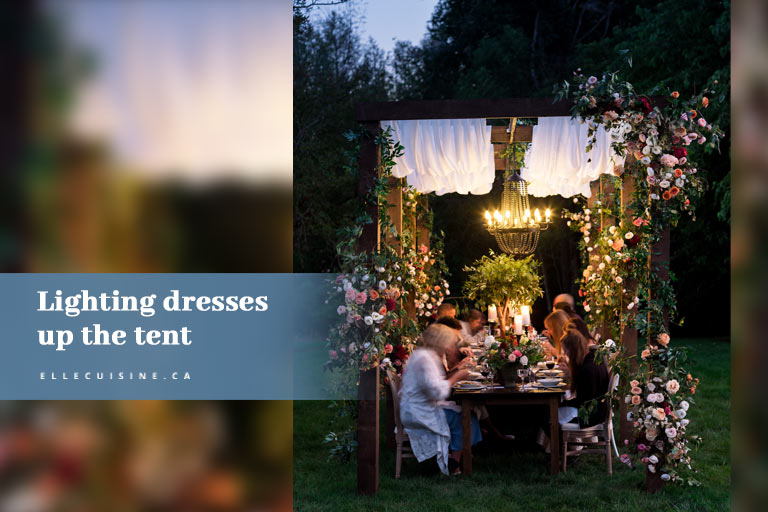 Lighting comes in a variety of styles. The tent lights for a wedding are a whole lot different from that needed at a disco party. Many special event rentals offer a limited number of fixtures designed exclusively for their tents, but specialized lighting can take it to the next level.
Some people use Christmas lights. If you opt for these, you'll need a lot of them. You'll probably need 10 times what you'd ever use for your home. Keep in mind, though, that if you bring your lights, the tent company is unlikely to set them up for you, and you'll have to get them out of the way before they come to take down the tent.
Event tent with walls can help keep the elements out, but whether or not you need walls depends on the season. If you're planning the event in summer, walls can make it hotter. You may need to use fans. If you're planning your event in the colder months, add walls and heating fixtures. 
What to Look for in an Event Rental Company
If you're looking for the right event rental company to provide you with all the necessary fixtures and furniture for your event, here are some things you need to keep in mind:
Be wary of any provider that doesn't answer the phone during business hours or doesn't return your call promptly. If something goes wrong during your party, you don't want to rely on someone unable or unwilling to assist you.
Request a detailed price for everything you want from that provider, including installation, takedown, delivery, deposits, and taxes, before confirming or paying for anything. At the very least, they should be able to give you an estimated price of the costs.
You need a company that can pull it off. If you're planning a wedding, you may not want to rely on companies who have never catered for weddings before. Some tent providers can also offer tables and chairs, dance floor, stage, tablecloths, dishes, and centrepieces. It is best if you can get everything you need in one place.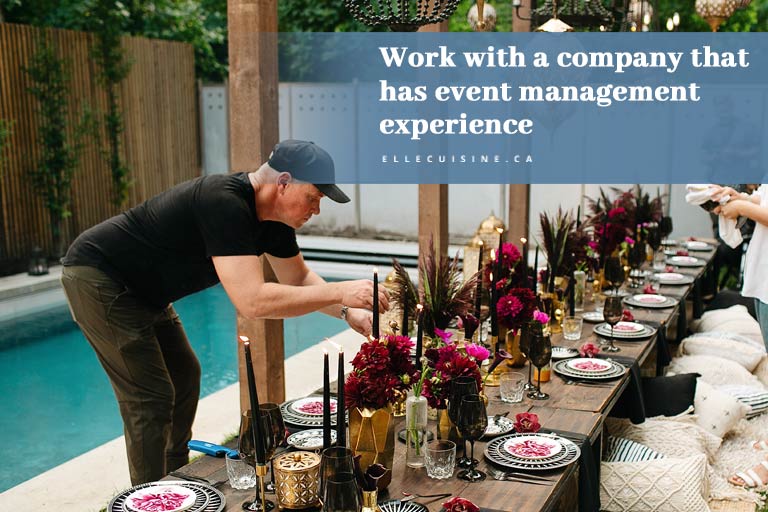 elle cuisine has been providing beautiful and reliable event management for over 10 years. For trusted event rentals in Toronto, call us at 647.430.3553 to book an appointment.