COVID restrictions are gradually being lifted in Ontario. With case counts going down and vaccination rates going up, we're slowly back to being comfortable getting together.
Couples who had to cancel or postpone their wedding plans last year are now finding opportunities to push through with tying the knot. Nevertheless, we still have the responsibility of keeping each other safe and healthy, as the pandemic is still ongoing. That being said, there are doable ways to make your upcoming wedding fun and safe for you and your guests.
Your Ultimate COVID-19 Wedding Checklist 
As part of Ontario's reopening framework, the Ontario Government and Toronto Public Health has made it a point for wedding celebrants to adhere to current public health orders. Coordinating closely with your wedding planner and vendors is a must, so you can make informed decisions and avoid health risks in preparing for and on the big day.
Toronto Public Health's COVID-19 Checklist for Planning a Wedding requires you to:
Stay informed and updated

Ask your service providers (e.g. ceremony and reception venues, florist, and food service vendor) about their COVID-related safety measures before hiring them.
Review your venue/vendor contracts and insurance policy.
Visit the City's website often to keep up with the latest COVID-19 info and guidelines.
Review the COVID-19 Guidelines for Indoor & Outdoor Events & Gatherings and COVID-19 Guidance for Places of Worship for more information.

Communicate with your partner and service providers.

Keep your lines open for your partner and your wedding planning services.
Be supportive of your vendors and try to be flexible with your plans.
Create a backup plan with a few alternative dates.
Prioritize public health measures in your wedding checklist.
As much as possible, go online or make calls when you shop for venues, flowers, decorations and other wedding needs. Even if you've been vaccinated, try not to move around too much.

Limit your guest list.

Comply with Ontario mandatory restrictions for in-person attendance. Refer to following chart for specific capacity limits depending on the type of gathering and venue:
ONTARIO PROVINCIAL MANDATORY RESTRICTIONS
Capacity Limits, subject to physical distancing
Wedding or religious service, rite or ceremony
Social gathering associated with a wedding service, rite or ceremony (e.g., reception)
Place of worship*
Indoors & Outdoors: Limited to the number of people that can maintain a physical distance of at least 2 metres from every other person in the room
Indoors: 25 people or less + maintain a physical distance

Outdoors: 100 people or less + maintain a physical distance

If held in a meeting and event space, subject to applicable limits.

Meeting or event space**
Indoors & Outdoors: Limited to the number of people that can maintain a physical distance of at least 2 metres from every other person in the room
Indoors: 50% capacity, up to 1,000 people + maintain a physical distance

Outdoors: 75% capacity, up to 5,000 people + maintain a physical distance

Private dwelling
Indoors: 25 people or less + maintain a physical distance

Outdoors:100 people or less + maintain a physical distance

Indoors: 25 people or less + maintain a physical distance

Outdoors: 100 people or less + maintain a physical distance
*Subject to requirements for places of worship.
**Subject to requirements for meeting and event spaces.
Source: COVID-19 GUIDANCE | Toronto Public Health
If you want a bigger wedding, consider virtual ceremonies or outdoor venues. Delay the event until public health measures are less restrictive if the guest count exceeds the current limit.
A drive-in ceremony where guests remain in their vehicles is a good idea, as long as vehicles remain 2 metres apart and contain members of the same household.
Add a virtual component to allow friends and family to participate. This may also benefit guests who cannot be there in person due to distance/ travel restrictions or are at higher risk for illness due to age and health conditions.
All individuals must be able to maintain at least 2 metres physical distance from people they do not live with at all times.
Communicate with guests before the event

Keep your guests informed and updated about the wedding through social media or your own wedding website. Include must-know precautions to be taken to keep everyone safe.
Encourage guests who are 12 years of age and older to get vaccinated with the COVID-19 vaccine. Provide information on how to get vaccinated.
Ask attendees to bring their own mask. Prepare extras just in case some forget to bring one.
Encourage guests to stay home if they are feeling unwell.
For virtual services, post instructions on how to access it online.

Encourage physical distancing

ALL seats should be spaced 2 metres apart. Group seats by household.
Post signs to remind guests to stay 2 metres from others they don't live with.
Use floor markings to let guests know where to stand in the reception line to stay safe.
As much as possible, NO hugging, kissing, and shaking hands.

Make hand hygiene, respiratory etiquette, and face masks a MUST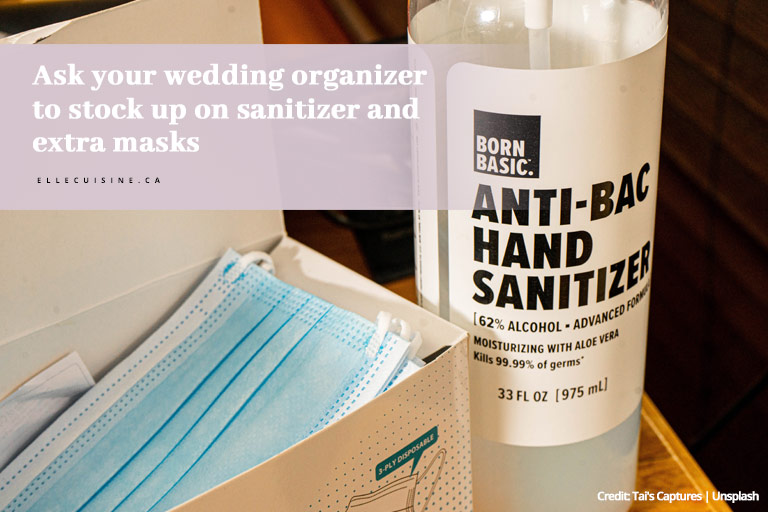 Wash your hands often. Make hand sanitizer available and accessible.
Avoid touching your face with unwashed hands. Cough or sneeze into elbow or tissue.
Everybody must wear their masks at all times, whether indoors or outdoors. Refrain from adjusting the mask when in use.
The couple may remove their masks during the wedding ceremony, as well as performers when performing.
There are mask exemptions for children under 2 years of age, people with health issues that make wearing a mask difficult, and those who are unable to put on a mask without assistance.

Increase ventilation in the venue.

Open windows and increase air exchange settings on HVAC systems, if you can.
Ensure the HVAC systems in the venue are properly maintained. Have filters replaced as needed.
Furniture should be placed away from air vents and high airflow areas.
Direct fans upwards and away from people.

Modify the wedding service and reception

When possible, find an outdoor wedding venue so you and your guests can properly physically distance from each other.
Refrain from sitting or standing too close to each other. Do not share personal items and sanitize ceremonial objects as much as needed.
Create an online registration book for guests.
Close group photos should be limited to people from the same household. Guests must wear a mask, even when outdoors.
Avoid photo booths and other activities that encourage contact among guests. Prepare socially-distanced games for your guests, such as wedding bingo, oversized outdoor jenga, bride and groom trivia.
Individual hand sanitizers and personalized masks are great ideas for wedding favours.
Try to limit alcohol service so guests won't feel overly relaxed to observe physical distancing.

Observe dining and entertainment restrictions.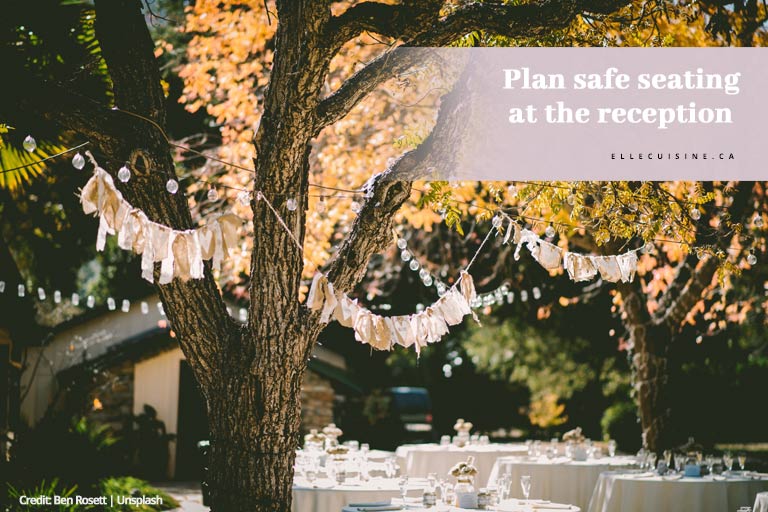 Coordinate with your wedding catering service or dining venue in following the city's indoor and outdoor dining restrictions.
Even with masks on, congregational singing is strongly discouraged. Consider alternatives to vocal performance, such as live instrumental music (except wind instruments), canned music, or virtual performances.
If you are hiring a live band with a vocalist, they must perform behind a barrier, such as plexiglass or stay at a distance of at least 2 metres from each other and the audience.
Keep speaker volumes low so the officiant, guests, and staff do not need to lean closer and speak louder for a proper conversation.
NO SHARING OF MICROPHONES. Have a separate microphone for performers and the officiant. Limit the number of guests making speeches.

Secure an attendance list for contact tracing.

Encourage your guests to download the COVID Alert app.
If a guest becomes ill during the service/reception, ask them to go home and self-isolate.
Keep an electronic list of your guests and staff in attendance. Information collected is voluntary, and can only be used by public health for COVID-19 contact tracing. The attendance list can be deleted after 30 days.
Everyone involved must observe these measures and directives, as any breach may be considered an offence punishable by law.
Making Your Socially-Distanced Wedding More Fun
Necessity is the mother of invention, and when social distancing became a necessity in the time of COVID-19, to-be-married couples and wedding planners found creative ways to celebrate a wedding despite the many limitations. We've rounded up the most creative wedding ideas we've found over the course of the year:
"I Do" at the Front Porch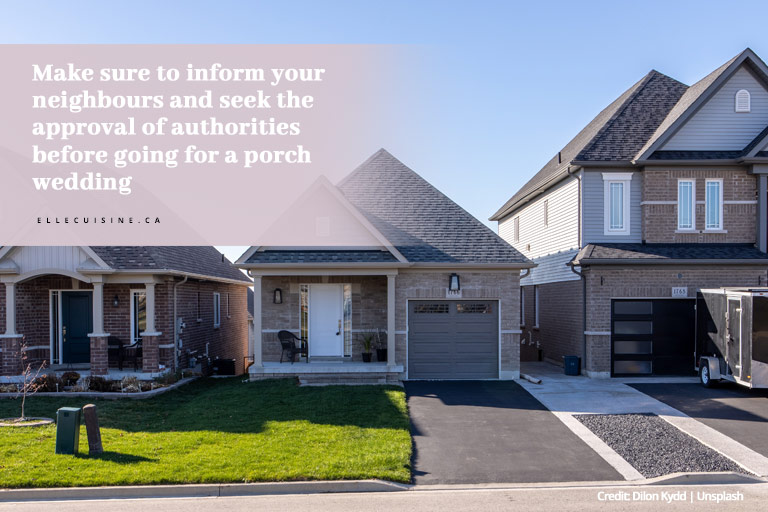 Backyard weddings were already a thing pre-pandemic, but some couples have chosen to perk up their wedding celebrations and said their I dos on the front porch. This is great for those who don't have much space in their backyards.
With a front porch wedding, not only do you have space in your immediate lawn, you can also let people gather on the street. Just make sure you've made prior agreements to block off the street and let your neighbours know about it.
Car-themed weddings made their rounds in their respective localities over the past year, and for good reason: car-owning guests can stay in their vehicle and still witness the celebration of their beloved bride and groom within the same reception. Whether it's a drive-in, tailgate, or a car parade, those who made this quirky idea into a reality surely had a great time executing it! If you're looking for a wedding theme that's one for the books, this is it.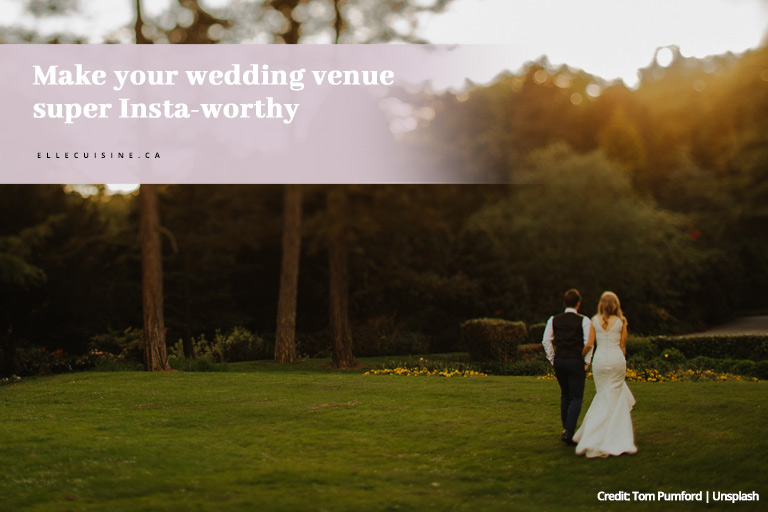 If you still want to celebrate with a selection of your loved ones, a wedding that's closer to nature will provide not just the much-needed space for proper physical distancing, but a picture-perfect scenery for photographs, too.
A local garden, a nearby lake, the forest at the back of your home, the mountains, the beach! Your have plenty of options; just make sure to contact the proper authorities before going any step further.
Grab the opportunity to meld your wildest wedding decoration ideas with the natural beauty of your chosen venue. Strategize your seating arrangements by spacing the chairs in a delightful yet distanced formation.
Just the Two of Us—LITERALLY!
Be it your favourite pub, your first apartment building, or the corner where you shared your first kiss, the options for a venue for a wedding-for-two are endless. Celebrating a place that means a lot to you two could make your wedding more special.

Pandemic Essentials as Wedding Favours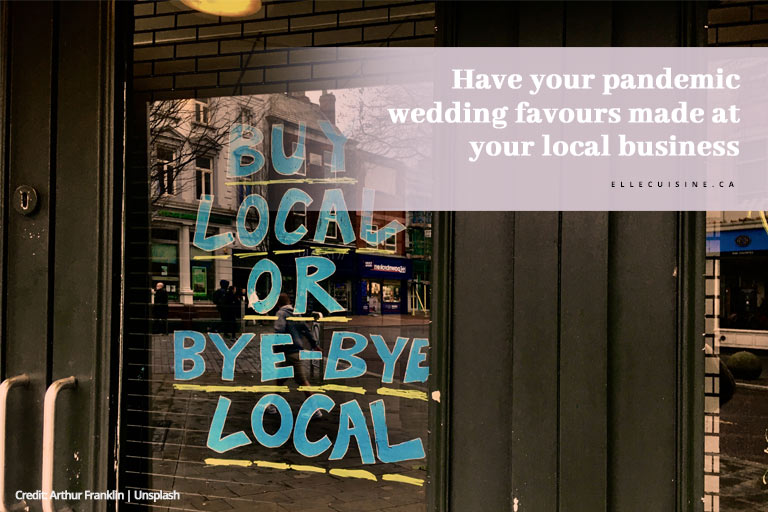 Even before the pandemic, it was always a big plus to give away wedding favours that your guests could use out of the context of the celebration. To do this COVID-style, thank your guests by showing you care for them with health and safety essentials, such as:
anything personalized: hand sanitizers, face masks, tissue packs
emergency kit party favours
social distancing wristbands
drinking glasses with chalk labels (to discourage drinking from other's glasses)
We're Back to Serve Your Weddings In Person!
It's been a while since elle cuisine joined in the lively celebrations of love in Toronto. Now that the city is reopening, we're excited to be part of your wedding once more!
To experience the visual and gastronomic delight that comes with elle cuisine catering, call 647.430.3553 for a quote. We can also help you look for the right wedding venue available near you and organize your ceremony and reception.