Wedding Planning Toronto
Your wedding is the time to celebrate the love you share with your partner, your commitment to each other, and the hope of a lifetime of wedded bliss. Let this, along with the company of your family and friends, be the sole focus of your special day; leave the nitty-gritty details of wedding planning to elle cuisine.
We understand how extensive the requirements of wedding planning in Toronto can be and how the challenges can detract you from focusing on the joy of the occasion. You can find an affordable wedding planner and coordinator at elle cuisine who can take this off your hands.
Whether you envision a simple affair with no more than 50 of your closest family and friends or a big, luxurious gala with as many as 600 guests, the wedding planning services of elle cuisine are at your disposal.
Why elle cuisine is One of the Best Wedding Planning in Toronto
elle cuisine offers full-service planning in Toronto, Ontario. We feel honoured when soon-to-be-wed couples trust us to plan a wedding event. Our years of experience and a strong network of wedding professionals enable our wedding party planner to create an elegant, luxurious, and timeless celebration of love.
Start Your New Life Together with Beautiful Memories
For 7 years, elle cuisine has worked with many clients to deliver unique and unforgettable weddings they will remember for the rest of their lives. As one of the leading wedding planning companies, we have a reliable team of Toronto wedding planners and consultants who are armed with the best equipment and experience in transforming dreams into reality.
However you envision your wedding, our wedding planner offers consultation to make it happen!
Revel in a First-Rate Personalized Experience
Whether it is a traditional wedding or something outside the box, let us worry about the details. The elle team takes the time to get to know each of our clients so our local wedding planners can design and plan a wedding that matches the couple's personalities and preferences.
We take our inspiration from our clients' stories and use them to organize unique and memorable events. Whether you are looking for a simple wedding planner for small wedding or a luxury wedding planner, elle cuisine prides itself in offering outstanding and exceptional event planning management for a flawless and stress-free wedding experience.
It doesn't matter if you need planning for an intricately designed dream wedding in downtown Toronto or a simple micro wedding in your backyard, elle cuisine has you covered.
Enjoy a Stress-Free Wedding With Our Complete List of Services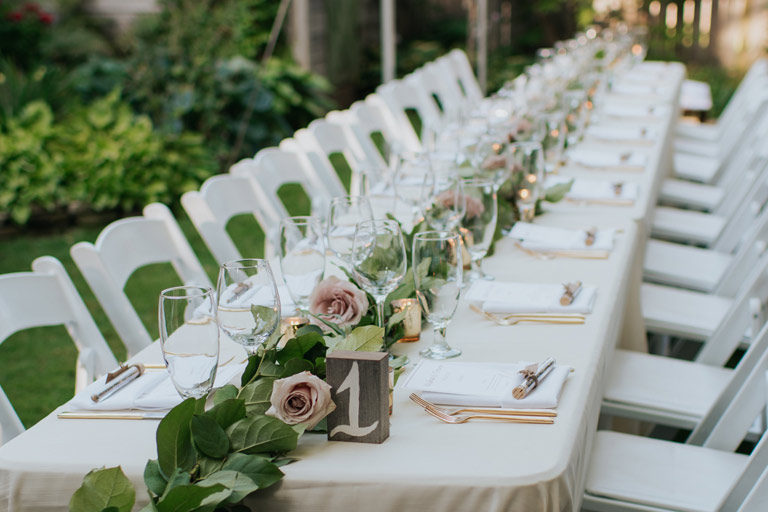 elle cuisine can handle everything from helping choose the venue to clean up. Our wedding planner in Toronto can create a delightful wedding menu to excite your palate, recommend décor options and sommelier services, provide stage equipment, rent out furniture, and offer the services of our staff on the day itself.
We combine precision planning, professional event management, attentive personal service, and expert event management to help couples achieve their dream wedding, from the first consultation until the end of the reception.
From booking the date, our full wedding planning service includes 24/7 availability and quick response to all your questions and concerns.
If you're in need of a local or destination wedding planning business near you, the best name in the industry is elle cuisine. Give us a call at 647.430.3553 to book an initial consultation or send us your inquiries using our online contact form; our staff will be happy to respond to you. Let the most trusted wedding planning in Toronto make your wedding a day to remember.