Wedding Catering Toronto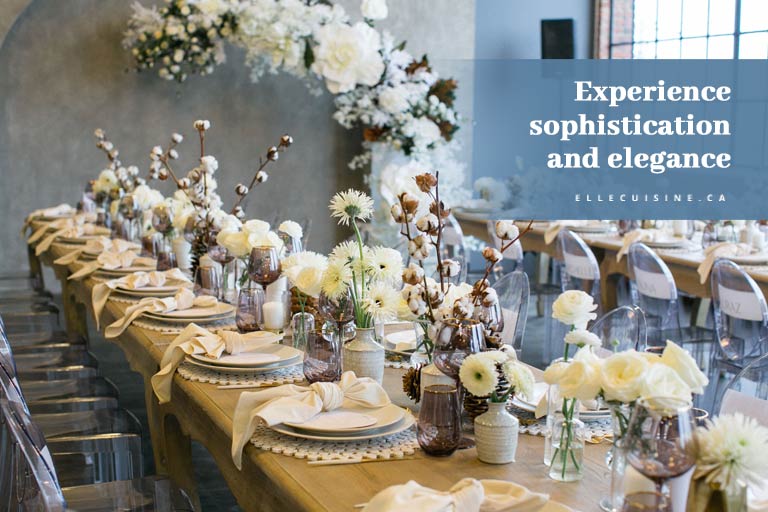 Trust elle cuisine for Exquisite Wedding Catering Services in Toronto
At elle cuisine, it is always a pleasure to offer our wedding catering services to soon-to-be-wed couples who trust us to plan and deliver the wedding they have always envisioned.  We understand the importance your wedding day holds and that is why we employ the best people to make your wedding full of wonderful memories that you and your partner will treasure for the rest of your lives.
Impressive Wedding Catering Menu
It is more than food for us. At elle cuisine, there is no wedding planning too difficult or too sophisticated. Our chefs will work hand-in-hand to custom design a menu that will amaze and impress every guest on your list with delectable cuisines that they will remember long after the event.
Our wedding catering services will indulge your guests and pave the way for a stress-free celebration of love with your family and friends.
Why Our Wedding Catering Food and Services Are the Best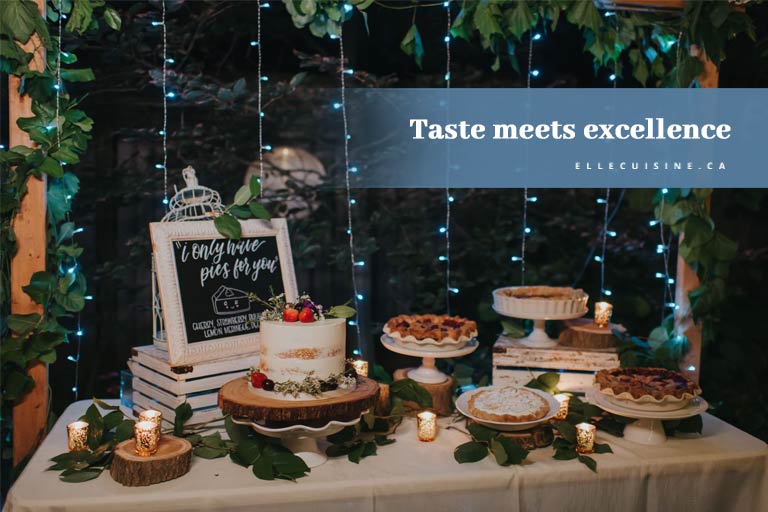 Trained in the best culinary techniques, elle cuisine's CEO, founder, and executive chef, Lauren Mozer, provides first-class quality, sophisticated, and customized culinary experience to every client. Together with our talented team of chefs, we design menus tailored to your specific standards and preferences. Our unmatched commitment and dedication have enabled us to provide world-class quality cuisine and outstanding services to thousands of clients.
Great attention to detail from start to finish is at the heart of our approach. We are well-connected, passionate, and experienced in turning your dream wedding into a reality. We only use fresh and high-quality ingredients to satisfy your taste buds.
No matter what the theme, we guarantee a personalized wedding experience inspired by each couple's unique personalities, personal style and tastes, and love story.
We Work with You to Breathe Life into Your Visions
Catering a wedding is a shared journey. To help you achieve your dream wedding, our first approach is to sit down and discuss your preferences with us.
We will work with you to develop a menu, determine décor options, and ascertain mixology or sommelier services. Tell us about your favourite food, dietary restrictions, and ideas for the wedding reception. Using this information, we will design the perfect catering lineup for your Toronto wedding.
After the consultation, our team will start working on a detailed proposal. We will do our best to meet your requirements, but we also welcome any revisions to deliver the highest quality results.
With your vision in mind, Chef Lauren and her team of chefs will develop your wedding catering menu, as well as an itemized quote for all the catering specifications discussed during the first meeting. Once our proposal is approved, we will move to the contract stage.
Whether your wedding is large or small, indoor or outdoor, casual or formal, the elle team will deliver your wedding catering needs. Our excellent food choices served with exemplary attention to detail will make for an unforgettable experience. Call us at 647.430.3553 or send us your message through our contact us form.
WEDDINGS
elle cuisine is proudly recognized as a top Toronto wedding caterer and event planning team.  Whether your wedding catering need is large or small, formal or casual, indoor, outdoor, within the GTA or abroad, the elle team will deliver an unforgettable experience on such a special day.
elle cuisine's stellar team of event planners are available to help with planning and event design, whether you're looking for day-of coordination, month of, or a full-service wedding planning package.
From cocktail-style weddings to multi-course tasting menus, elle cuisine's mission is to serve the finest food while creating engaging atmospheres in which the most special of moments are shared.
elle cuisine maintains strong relationships with venue across Toronto.  We are proud to partner with many of the top venues in our city.  Reach out to one of our wedding planners to get the guidance you need to pick the perfect venue for your needs and preferences.
From the venue, to the food, to the flowers, to the rentals, elle's wedding planners can help manage every detail of your special day.  It will go off without a hitch and you and your guests will remember a flawless event for a lifetime.