It's no secret that food is one of the most important aspects of any wedding. After all, it's one of the few things that your guests will remember long after the big day is over. That's why it's so important to make sure that your wedding menu is on trend and will delight your guests.
Here are some of the most popular wedding food trends that you should consider for your big day.
Farm-to-Table Cuisine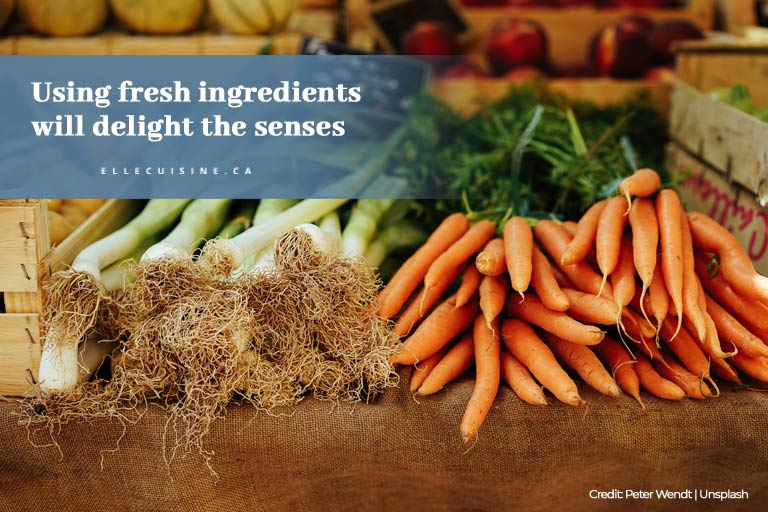 Farm-to-table cuisine is a type of culinary art that focuses on using locally sourced ingredients, often from farms located near the restaurant or event venue. This emphasis on using fresh, local ingredients has several benefits.
Farm-to-table food is fresher and more flavourful than food that has been shipped long distances. It is also more environmentally friendly since it requires less transportation. In addition, farm-to-table food supports local farmers and helps to create a sense of community.
In recent years, farm-to-table cuisine has become an increasingly popular choice for weddings. There are many reasons for this trend.
For couples planning a rustic or country-themed wedding, farm-to-table cuisine can be the perfect way to add a touch of elegance. By featuring locally grown foods, you can show your guests that you are committed to supporting sustainable agriculture.
Gourmet Food Trucks
One of the most appealing aspects of gourmet food trucks is the unique dining experience they offer.
Guests can enjoy exploring the different trucks and sampling a variety of dishes. This is a far cry from the traditional sit-down dinner, and it allows guests to mingle and socialize in a relaxed setting.
Food trucks also offer a great opportunity for couples to personalize their wedding menu. With so many different trucks to choose from, there are endless possibilities for creating a menu that reflects the couple's taste and style.
Another reason why gourmet food trucks have become so popular is that they are often more affordable than traditional catering options.
When you compare the cost of renting a truck and hiring staff to the cost of hiring a caterer, it's easy to see why couples are opting for the former option.
Lastly, gourmet food trucks provide a convenient way to serve food at outdoor weddings. If you're getting married in a park or on a beach, it can be difficult to find a catering option that can accommodate your guest list.
But with food trucks, all you need is access to power and water, and you're good to go. This means that even if your wedding is taking place in an unconventional location, you can still enjoy all the benefits of having delicious gourmet food truck cuisine at your reception.
Interactive Food Stations
Fancy sit-down dinners have been a tradition at weddings for many years. However, many of today's couples are looking to switch things up and interactive food stations are a great way to do that.
Interactive food stations add an element of excitement to the reception. Guests can watch as the chef prepares their meal, and they can even ask questions and get tips on how to make their own dishes.
Customized Cocktails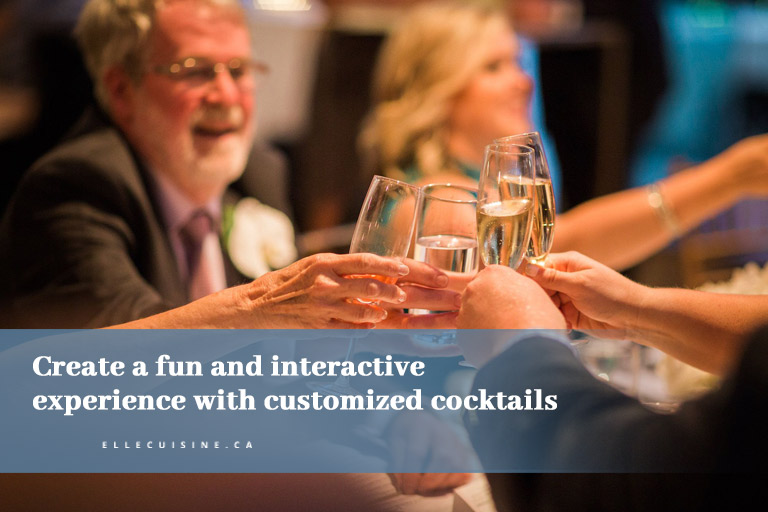 As wedding receptions have become more and more creative, so have the wedding food and drink options.
There are several reasons why customized cocktails have become a popular choice for weddings. First, they offer a fun and interactive experience for guests. Guests can choose their own ingredients and create their own special drinks. This is a great way to add some fun and excitement to the reception.
In addition to giving guests the option to create their own drinks, the newlyweds can also add their own custom cocktail to the menu.
Couples can use unique ingredients and garnishes to create a signature drink that reflects their personalities. This is a great way to make your wedding reception truly one-of-a-kind.
Buffet-Style Dining
Buffet-style dining allows guests to choose exactly what they want to eat, which can be a great option for guests with dietary restrictions or food allergies.
Additionally, buffet-style dining is often more affordable than sit-down meals, making it a great option for couples on a budget. But perhaps the most appealing aspect of buffet-style dining is that it allows guests to mingle and mix more freely than they would if they were seated at assigned tables.
Another huge benefit of buffet-style dining is that it is much more affordable than a more formal sit-down-style meal where everyone's meal is pre-ordered.
Edible Wedding Favors
One of the latest trends in weddings is to offer edible wedding favours. This is a great way to show your guests how much you appreciate their attendance and also give them a tasty treat to enjoy.
Edible favours are a unique way to show your personality as a couple. They can be customized to fit your theme and colours, making them a perfect addition to any wedding décor.
On top of that, they are a practical choice for guests. With so many weddings to attend, most guests appreciate being able to take home a treat that they can actually use. Edible wedding favours are relatively inexpensive, making them a budget-friendly option for couples on a tight budget.
Lastly, they are easy to transport and can be stored for weeks or even months after the wedding.
The Best Wedding Catering in Toronto is Waiting for You
Following any of the wedding food ideas we've shared can help make your wedding day extra special for you and your guests. However, trying to handle all of the wedding food catering on your own can be overwhelming. That is why it is important to allow a professional to create your wedding food menus and take care of the rest of the important details.
Here at elle cuisine, we are happy to help. We offer luxury wedding catering in Toronto that is designed to suit your needs. Contact us today to request a quote.