When many people envision their wedding day, they instantly imagine a beautiful indoor space filled with family and friends. However, having an outdoor wedding can be just as special, and it may even make your day more memorable for you and your guests.
With that being said, there are a few things you should keep in mind if you plan to have an outdoor wedding. Keep reading to learn about some of the things you should consider if you want to bring your outdoor wedding ideas to life in a magical way.
Pay Close Attention to the Weather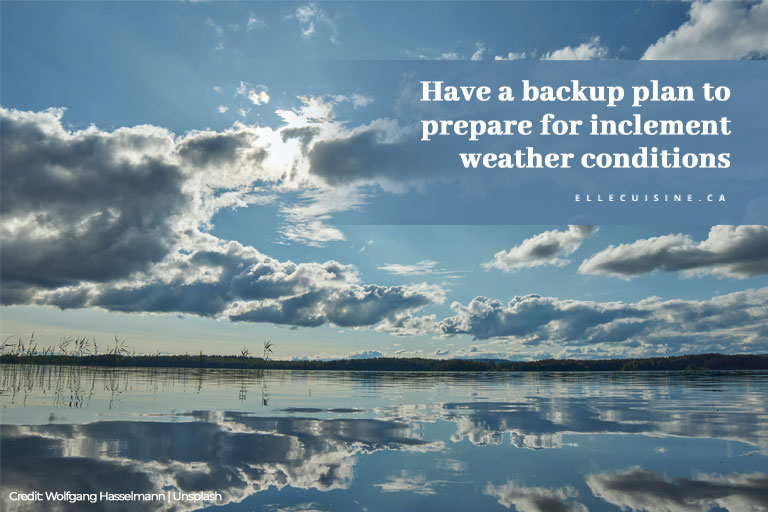 Paying attention to the weather is crucial when wedding planning in Toronto. Even if the forecast predicts perfect conditions, the weather can change quickly and without warning. Strong winds can knock over decorations and cause havoc, while rain can ruin both the ceremony and the reception. While it's impossible to control the weather, being prepared for anything can help to ensure that your wedding goes off without a hitch.
Having a backup plan for bad weather is always a good idea, and making sure that all of your vendors are aware of the potential for inclement conditions is also important.
Inform Guests the Wedding Will Be Outdoors
Most people dream of a beautiful summer wedding, with the sun shining and a soft breeze blowing. However, if your wedding is going to be outdoors, it's important to let your guests know in advance so they can dress appropriately. While an outdoor ceremony can be breathtaking, guests who are not prepared for the weather can quickly become uncomfortable.
Bright sunlight can be harsh on bare skin, and even a gentle breeze can be chilly if you're not dressed for it. By letting your guests know that your wedding will be outdoors, you can help them to prepare for the weather and avoid any potential discomfort.
Thanks to modern technology, there are plenty of ways to spread the word – from emailing invitations to posting updates on social media.
Offer Refreshments Before the Ceremony
We all know that weddings can be stressful affairs. There's so much to plan and organize, and often things don't go according to plan.
One way to help reduce the stress on your wedding day is to offer refreshments before the ceremony. This will give your guests a chance to relax and mingle, and it will also help to keep them from getting too hungry or thirsty during the ceremony.
Refreshments can be something as simple as lemonade and cookies, or you can go all out with a champagne reception.
Don't Forget About Lighting
Lighting is an important aspect of outdoor wedding decor for multiple reasons. First, it can help to set the mood for the event. Soft, romantic lighting can create an intimate atmosphere, while bright, festive lighting can add energy and excitement.
Second, lighting can be used to highlight important features of outdoor wedding venues, such as a beautiful view or a stunning piece of architecture.
Additionally, lighting can help guests feel more comfortable and safe in an outdoor setting. By carefully considering the type of lighting used at an outdoor wedding, couples can create a truly magical event.
Be Mindful of Any Permits You May Need
When planning an outdoor wedding, it's important to keep permits in mind. Permits help to ensure that your wedding will be safe and legal. Without a permit, you could possibly be fined.
Permits can help to ensure that your wedding goes smoothly. If you need to close a street or use amplified sound, a permit can help to make sure that everything is arranged in advance. So before you start planning your dream outdoor wedding, be sure to check for any permits that might be required.
Ensure Your Vendors Have Experience With Outdoor Vendors
If you're dreaming of an outdoor wedding, it's important to make sure your vendors have experience with outdoor venues. There are a lot of logistics that go into setting up an outdoor wedding, from dealing with the weather to making sure the sound system works.
If your vendors don't have experience with outdoor weddings, they may not be prepared for the challenges that come with them. As a result, you could end up with a wedding that's less than perfect.
Use Shade to Your Advantage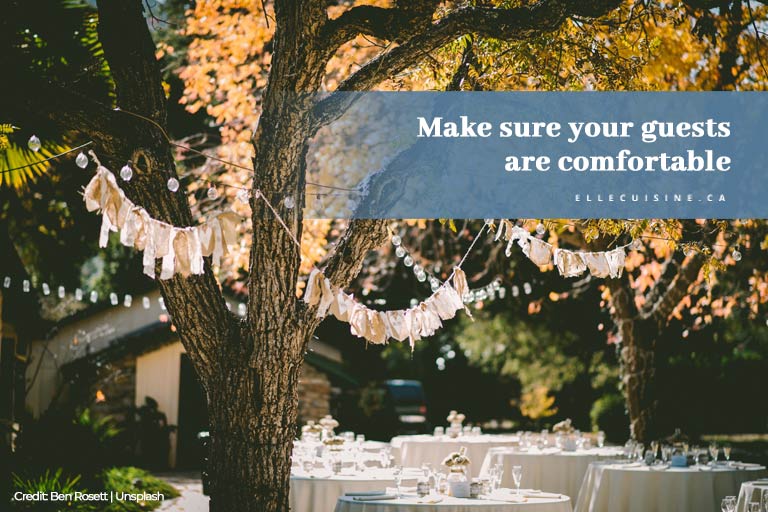 There are ways to use shade to your advantage when having an outdoor wedding. For example, you can set up the ceremony near a large tree or tent. The guests will appreciate being out of the sun, and the bride will be able to stay cool and comfortable.
If you're worried about losing the romantic ambiance of an outdoor setting, you can use string lights or lanterns to create a warm and inviting glow. With a little planning, you can ensure that your outdoor wedding is both beautiful and comfortable for everyone involved.
Ensure Guests Have Access to Restrooms
Something to keep in mind when having an outdoor wedding is how your guests will access restrooms. The good news is that there are a variety of options available, from renting portable toilets to partnering with a local business or restaurant. Here are a few things to keep in mind as you plan your wedding:
If you're partnering with a local business or restaurant, make sure they're aware of your event and that they'll be able to accommodate your guests.
Renting portable toilets is always an option, and there are companies that specialize in providing them for weddings and other events.
Hire a Wedding Planner
A professional planner will have the experience and expertise to help you navigate the challenges of planning your wedding and ensure that your event runs smoothly. They can also provide valuable insights into choosing the right venue and vendor partners, as well as help you stay within your budget.
Have the Wedding of Your Dreams
Having an outdoor wedding can be a great way to celebrate your lifelong love. At Ella Cuisine, we can make it even more memorable by providing you and your guests with the best wedding catering in Toronto. Whether you're having a small backyard wedding or a wedding garden party, we've got you covered. Contact us today to request a quote.