Company meetings don't have to be serious all the time. You can take the extra step to make them just a little more special.
Besides, a well-fed and content employee can come up with better ideas during these discussions. Why not consider ordering catering for your employees? It may cost a little extra but this gesture could mean more to your employees than you would think.
By providing them with free catered food, you are showing them that you value their time, which can inspire loyalty and productivity. However, food orders and catering events can be tricky.
With so many factors in play, from dietary restrictions and hygienic practices to budgeting and venue organization, you'll need to make sure you're on top of all the details. To do that, you'll probably need professional catering companies to help you.
Here are a few catering tips to ensure that you find the right food services.
Business Meeting Catering Tips
Choosing the best catering for business meetings or any company event is a challenging task. Here's what you need to do: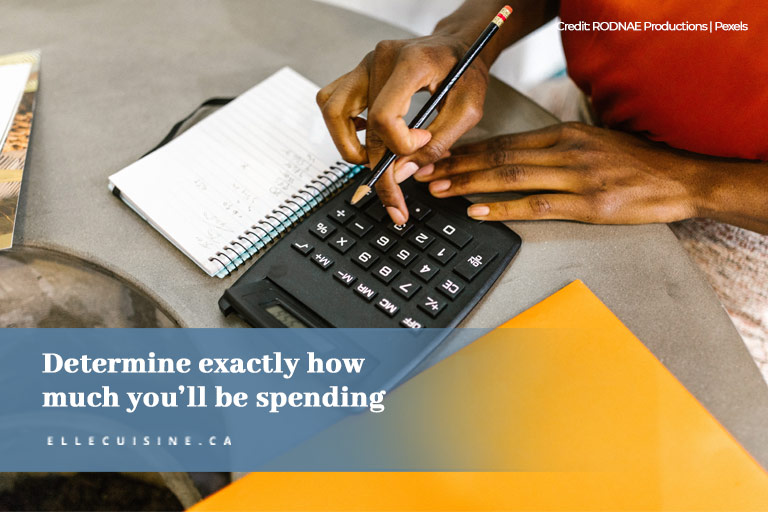 The budget will depend on various factors including the number of attendees, the location of the event, and the menu..
Before you pick a professional catering service make sure to consult with various agencies. Present to them these factors to ensure that you are setting aside the right amount.
Catering services also offer various service packages, which you'll be able to tweak and modify, making it easier for you to budget.
When choosing a private catering company, make sure to check out all their offers till you find one that matches your employees' needs.
You need enough space to prepare and set up the catering. Depending on where you plan to hold your event, you must ask the catering company if they can work in such conditions.
This will allow them to first assess the situation so they can determine the best service option for you. If it's an open space, maybe they could set up an entire buffet area. Small spaces may be more suited for food packs.
Considering the space will allow your employees to have a better dining experience and give the catering staff a picture of what they will be dealing with.
Choose the right type of food
Are you holding a high-end corporate event or a casual conference? Your food should also reflect the type of event you're organizing,
Choose food that is filling and healthy and not just aesthetically pleasing. Here are some tips for picking your menu:
Pick a different theme and matching menu for every meeting

The theme of your menu should match the ambience you're aiming for. Working with a theme will allow for a more cohesive event. If you're trying to open your business up to new cultures or set up new locations, why not feature famous cuisines from these countries or cities?
Whether you're aiming for Italian, Japanese, Mexican, Indian, or Asian, the menu options and fusions are endless.
Make sure your menu reflects your brand

Company branding is crucial for increasing trust not just among investors and customers, but employees as well. If you want to leave a mark during the business meeting, then the menu must reflect your company as well. If you're representing a high-end brand, opt for gourmet!
If you're looking for a more casual atmosphere, try some traditional dishes.
Take diet restrictions into consideration

One of the trickiest parts about food catering is dealing with the different dietary restrictions. Some people may be allergic to certain dishes, while others could be avoiding certain dishes due to personal preferences or religion.
If you want to make everybody feel welcome and comfortable, go the extra mile and ask them about these dietary choices beforehand. This way, you'll be able to decide, if you need to arrange menu items, like vegan catering, for them.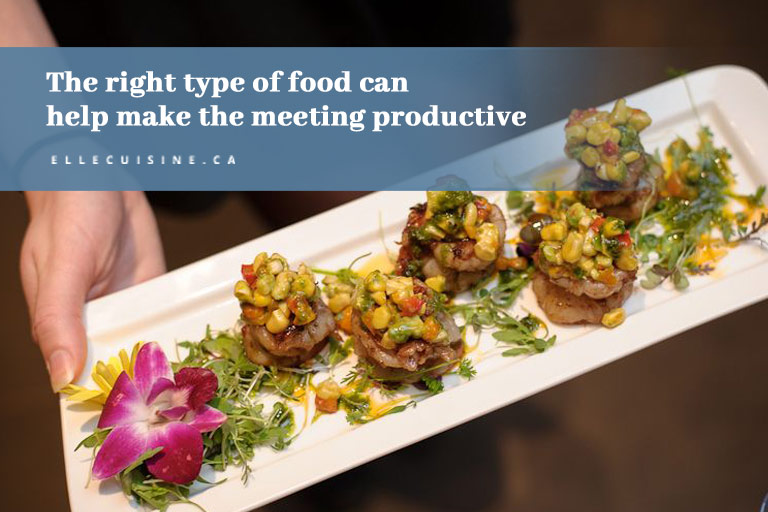 Food in business meetings should not only satisfy gustatory cravings. Think of food as fuel that will give your employees that boost of energy to allow them to come up with better ideas and be more productive for the company.
When choosing a menu, try to make it as balanced as possible, serving enough carbohydrates, proteins, and greens in one plate. Alcoholic drinks should also be limited, to ensure that everyone is in the right state of mind.
Your catering company will provide a variety of dish types depending on the designated time for your business meeting. Some types of food will be a better option for breakfast, while others are better served during lunch or dinner. You can even opt for corporate boxes for snack breaks.
If you're planning to hold this event for the entire day, make sure to cater enough of the right types of food that will satisfy the attendees.
Catering food during business meetings is more than just a gesture of provision. Rather, it's a psychosocial symbol that shows the people that you're working with that you are ready to invest in them because you value them.
If you're organizing company meetings or corporate events and need office catering in Toronto, reach out to elle cuisine. We have a wide selection of catering options to choose from. Call us now at 647.430.3553 for catering assistance on any event.