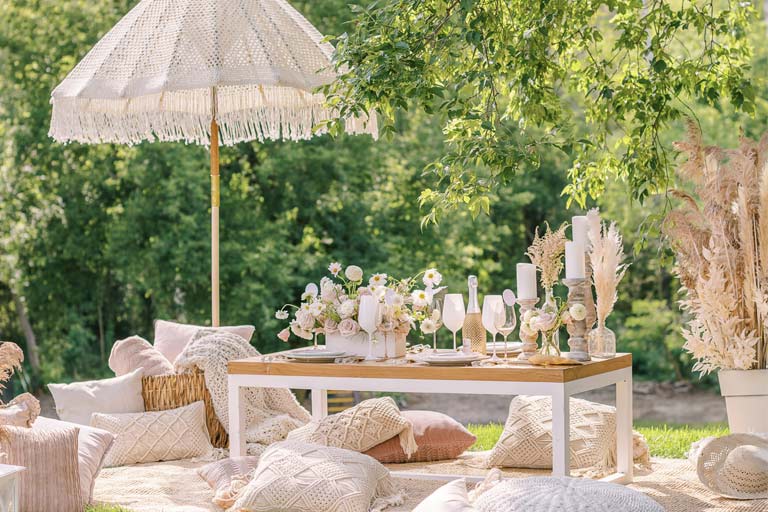 Hosting an event is incredibly exciting. Usually, you're celebrating a great accomplishment or a happy occasion. From weddings to graduation parties to 50th wedding anniversary celebrations, there are many reasons to get together with family and friends.
However, if you're the host, you have a lot on your plate. You need to get all of the details ironed out, from food to the guest list to decoration. Oh, and furniture! People need a place to sit!
The good news is that you can generally rent the furniture you need from an event planning service like elle cuisine.
Curious how to find the right furniture for your event? Here's what you need to know.
Decide on the Audience
The type of event you're having will have a big impact on the type of furniture you need. If you're planning a corporate holiday party, for example, you'll need more formal seating and tableware. You may also need a speaker's podium so that the management can address the employees.
On the other hand, if you're holding a Sweet 16 party, you might need more informal seating and tables. The decoration will be a lot different, and you might need a seperate space where games can be played. You might also rent games or a photo booth for the occasion.
A wedding will need the most formal of all furniture, along with formal tablecloths and dishes. You'll also need to set aside space and lighting for a dancefloor.
The first step to finding the right furniture to rent is to know your audience!
Note How Many People Are Coming
A large group will need more tables and chairs, which might impact your budget and cause you to choose a more mid-range furniture style. If you're having a high-end party with just a few people, you can splurge on lux furniture and bigger seating arrangements.
Think about what people will spend most of their time doing, as well. If a meal or snacks are the centrepieces of the event, you'll want to focus on having enough seats for everyone to sit at the same time.
On the other hand, if it's a dance or a more active party, you might just need a few tables and chairs around the edges of the room for people to sit and talk or rest their feet.
Inside or Outside?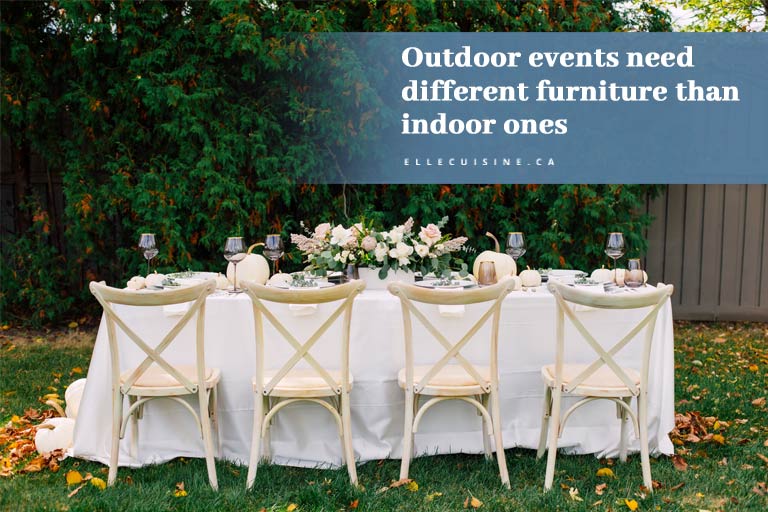 One of the biggest factors for choosing your furniture is whether your event is indoors or outside. If it's outside, you need chairs that will be comfortable on uneven ground. They also need to be able to stand up to a variety of weather conditions.
If you're going to have tables and seating outside, it's often a good idea to have a canopy or tent. That keeps the guests out of the direct sun and helps protect everyone from light rain. Also, make sure you have a contingency plan in case it rains heavily or there is other bad weather.
If your event is indoors, you have a wider range of choices. However, your space may be more limited. You'll want to ensure that the tables and chairs make sense for the space that you have available.
What Are the Activities?
Different shapes and styles of tables can create different interactions among the event attendees. For example, round tables help people connect, but the connections are likely to be more formal.
On the other hand, smaller tables and soft chairs facilitate a more personal, intimate feeling and give people permission to let their personality shine.
Long tables allow you to decorate with long runners and capture excellent photographs where you can see more people. However, it is harder for guests to interact with someone who isn't in their immediate vicinity.
Finally, it's important to consider the activities that don't involve sitting down. Often round or small tables make it easier to leave space for games, dancing, photo booths, or other activities. Make sure that your furniture rental choices make sense for all parts of the event!
Get the Overall Feeling of the Event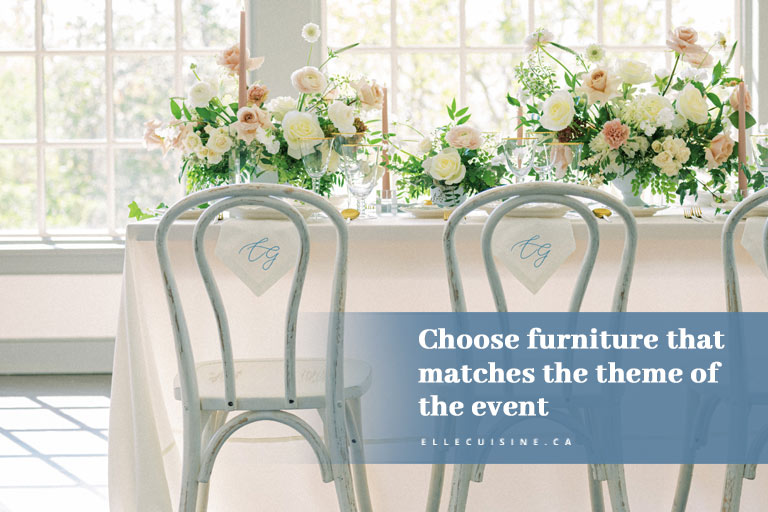 There's more to renting event furniture than deciding on the size and number of tables and chairs. You also want to take into account the style. The style of the seating will make a big difference in the overall vibe that the event will have.
For example, a tech company would probably expect a very modern style (while still being comfortable). Choosing formal wedding chairs would be quite out of place at that type of affair. On the other hand, having industrial-style seating would feel odd and out-of-place at a 50th wedding anniversary party.
Make sure the style of tables and chairs matches the feeling you're going for at the event.
Why Rent Furniture?
Why should you choose furniture rental for your event?
The simple reason is that you probably need more tables, chairs, and decor than you have a reason to use in your daily life. It's a lot of money to buy a significant amount of furniture, and you'll also need to store it both before and after the event.
Unless you hold a lot of events that need the exact same type of furniture, you're not going to get a lot of use out of your investment after your party is over. Even if you plan to hold furniture for a future wedding, for example, there's no guarantee that the style will be right for the type of event the couple plans to hold.
Transporting a lot of furniture is a huge job, and when you work with Elle you don't have to worry about that — we deliver! So don't worry about being stuck with a huge financial purchase that you'll only use once. Instead, you can rent your furniture from us, saving time and money. We'll take care of everything!
elle cuisine is Ready For Your Next Event
From furniture rental to catering to decor, elle cuisine is the event planning company that you need for your next party. Whether it's a corporate holiday party, an important birthday party, a wedding anniversary, graduation, or another exciting event, we can help you make it memorable for all the right reasons.
Contact us today at 647.430.3553 to learn more about our services!