Premier Corporate Catering and Event Planning Services in Toronto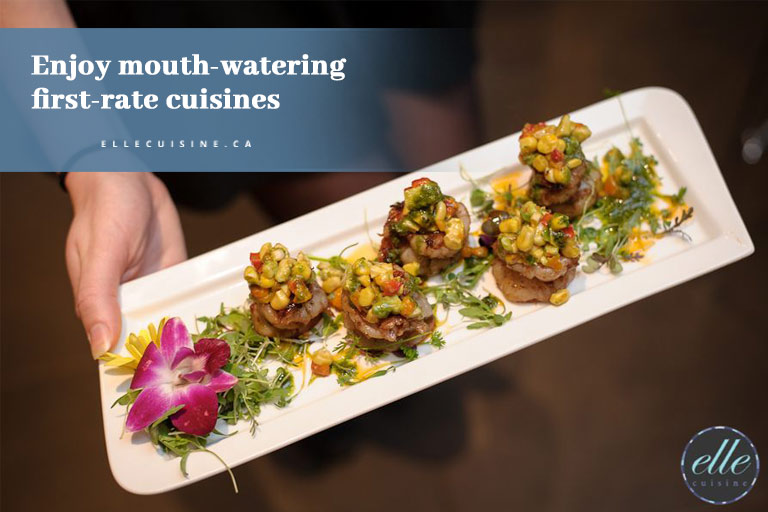 Whether you're organizing a corporate buffet catering, a holiday party, a grand opening, or other special events, turn to elle cuisine. We offer the best corporate event catering services in Toronto.
Imagine corporate catering in Toronto that is carefully personalized to the specific dietary preferences of you, your superiors, and your employees. Our secret? The elle team takes the time to get to know your company. We listen to your unique requirements so we can bring your vision to life and deliver a first-class corporate event in Toronto. At  elle cuisine, we do not aim to simply meet your expectations — we want to exceed them. It is our mission to create an engaging atmosphere that will impress your guests.
How We Stand Out from Other Corporate Catering Companies in Toronto
elle cuisine is a full-service catering and event planning company that can turn a simple conference into a feast.
Our excellent attention to detail and professional presentation have helped us gain recognition as one of the top corporate event catering businesses Toronto has to offer. Our team of chefs and event planners is equipped with the best experience and training to give our clients exemplary catering services for corporate events so that you can focus on the important aspects of running your business.
Engaging Settings
We transform any venue into an elegant and luxurious setting. We will collaborate with you to create and design the perfect atmosphere that matches your vision for a unique experience.
The combination of state-of-the-art tools, reliable management systems, and an experienced professional team allows us to work cohesively and focus on the aspects that matter most to our clients and their guests.
Comfort and Enjoyment
All you have to do is leave the entire process to the elle team. We will run the show for you behind the scenes while you focus on entertaining your guests and enjoying yourself.
We are personally invested during the planning process and treat you like a VIP because, at elle cuisine, it is all about establishing a personal connection with clients. Our team is trained to never compromise the quality, which means you get the service you deserve and your guests will get an experience they will not easily forget.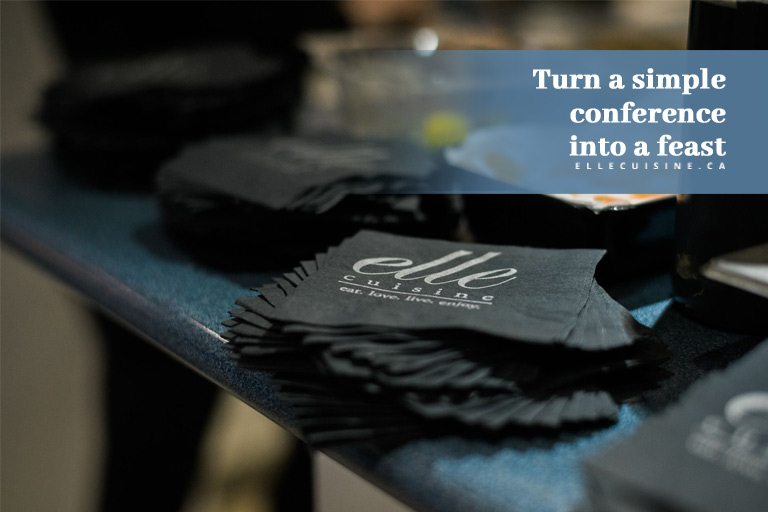 Delectable Delights — and More!
elle cuisine is known for our mouth-watering first-rate cuisines prepared by Chef Lauren Mozer. With her classical French training and love for diverse food cultures, she brings exquisite flavours to every bite.
To complete your experience, our friendly and professional team is here to assist you every step of the way — from choosing the perfect venue and stunning décor to providing entertainment equipment and mixology or sommelier options that are ideal for any catering for company events. With our amazing corporate event ideas for Toronto companies, we raise the bar for catering and event planning.
elle cuisine is definitely your go-to solution for one-of-a-kind catering services for companies. Call us today at 647.430.3553 to book an initial consultation or use our online contact us form to send us your message or questions. We look forward to being a part of your celebration.
TORONTO CORPORATE CATERING EVENTS
At elle cuisine, we are proud to be recognized as one of the best corporate catering and events planning companies in Toronto.  When working with the elle cuisine team, you can feel confident that your colleagues and business partners will undoubtedly be impressed!
Our dedication to professionalism, quality, flexibility, and client satisfaction is at the core of our success, and thus the success of our client experiences.
Corporate catering menus are custom-created to ensure each of our clients is presented with a distinct, personalized, and high-end experience, made with only the freshest and highest quality ingredients.  Specific dietary needs are identified during the planning process of your Toronto corporate events to ensure every unique detail of your event exceeds satisfaction.
Need breakfast or lunch box catering menu or delivery in Toronto? Looking for unique corporate catering options for a company event? Have corporate office catering ideas or working lunch menu options in mind? No problem! The elle cuisine team has your back. We provide gourmet catering services for Toronto corporate events.
elle cuisine's talented & experienced corporate event planners are readily available to answer questions and provide strategic guidance throughout the coordination process.