Spring is almost here, and that's a good thing if you're the type of chef who prefers fresh ingredients. Now's the time to start looking forward to swapping all those heavy comfort foods of winter for lighter, "spring-ier" food, specifically in-season veggies and fruits you can use to make those mouthwatering seasonal recipes. Green peas and spinach are a few ingredients that come to mind, but there are some lesser-known ingredients in season that you should definitely try.
Spring Season Ingredients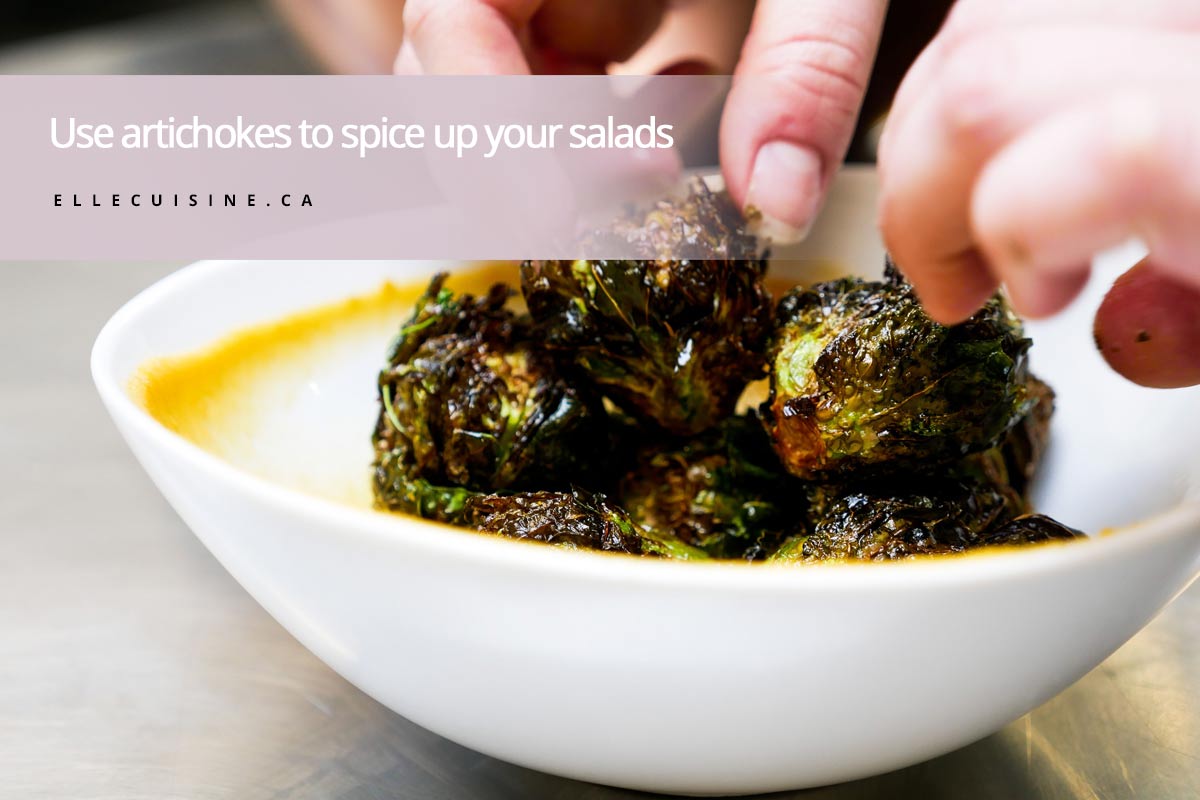 If you're in the mood for healthy spring meals, look for these ingredients in your local grocery store:
Artichoke



Artichokes can take a little prep work to get ready, but the earthy flavour and meaty texture make it all worth it. They're also a versatile ingredient; you can steam them whole, chop them up for pasta, or eat them raw for salads.

Asparagus



Asparagus season typically starts in early May, and lasts about a month. When in season, green, purple, and white asparagus all feature a bright, delicate flavour with a touch of acidity. Whether roasted, steamed, or grilled, asparagus makes a mouthwatering addition to soup, salad, grilled fish and meat, and pasta.

 

Fava bean



Although they're typically associated with Mediterranean food (and Anthony Hopkins), fava beans actually grow all over the world. They are in season in spring, but in cooler climates, you can find them well into summer. Fava beans work well as stews and purees, but you can also grill them whole and eat them out of their pods with salt and a squeeze of lemon, to name a few suggestions.

Morel



Morels are the first mushrooms to appear in spring, and they remain in season from April to June. They have a meaty, earthy flavour and a woodsy aroma. Morels go well with other spring vegetables, particularly when simmered or stewed. Alternatively, they also work as substitutes for or accompanying other mushrooms in recipes like Beef Stroganoff. As a

general food safety tip

, always remember to cook your morels to make them safe enough to eat. 
Spring Recipes
The local farmers' markets are a good place to start when it comes to searching for fresh in-season ingredients. After you get the ingredients, however, it's time to find some scrumptious spring recipes so you can put them to good use. Here's a list of sample recipes you can try to spice up the dinner table.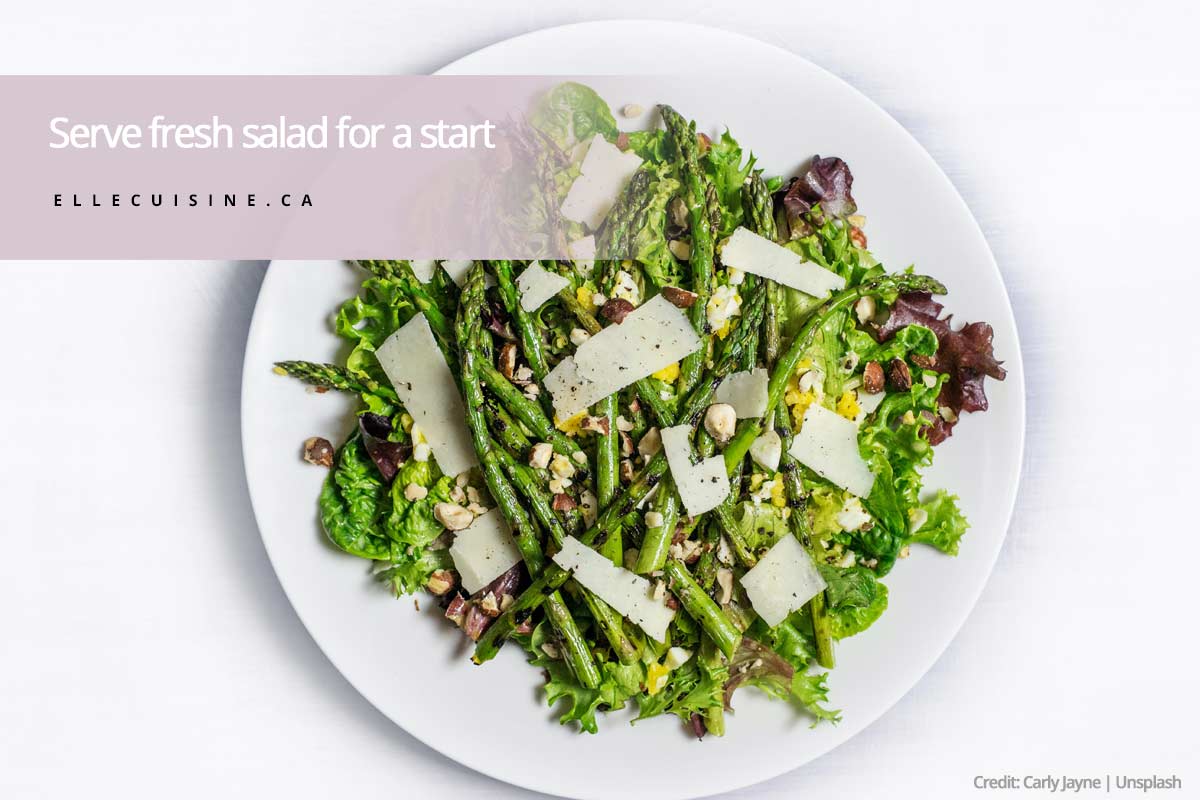 Grilled asparagus salad
Ingredients:
¼ cup olive oil
⅛ cup lemon juice
12 fresh asparagus spears
6 cups fresh spinach leaves
⅛ cup grated Parmesan cheese
1 tablespoon seasoned slivered almondsStart by preheating your grill at a low heat. As it gets up to temp, combine your lemon juice and olive oil together on a plate. Next, place the asparagus on the plate and roll them around to coat with the mixture.Place the asparagus on a tray and grill them for about 5 minutes. Turn them at least once, and brush them with your olive oil mixture. Once done, take the asparagus and put them back on the plate with the oil.In a large bowl, mix the spinach, parmesan cheese, and slivered almonds. Next, cut the asparagus into bite-sized pieces, and add to the salad. Add the remaining lemon juice and olive oil for flavour. Toss the contents of the bowl to blend, and serve.
Poached salmon with artichoke confit
Ingredients:
Vegetables
5 tablespoons fresh lemon juice, divided
4 artichokes
6 sprigs thyme
4 garlic cloves, peeled
2 bay leaves
1 tablespoon black peppercorns
3½ cups olive oil
½ cup fresh fava beans (from about ½ lb. pods) or frozen, thawed
Kosher salt
½cup shelled fresh peas (from about ½ lb. pods) or frozen, thawed
¾ cup green olives, coarsely chopped
½ cup pea shoots (tendrils) or fresh flat-leaf parsley leaves with tender stems
½ cup torn fresh mint leaves
Freshly ground black pepperSalmon and Assembly
4 sprigs flat-leaf parsley
4 sprigs dill
1 lemon, thinly sliced
2 tablespoons fresh lemon juice
1 cup dry white wine
1 tablespoon black peppercorns
Kosher salt
4 6-oz. skinless salmon filletsStart by adding 3 tbsp. of lemon juice to a large bowl of cold water. Then, working with one artichoke at a time, remove the tough outer leaves with a serrated knife and trim the top of the artichoke to just above the heart. Keep basic knife safety rules in mind at all times to keep yourself safe as you work. Trim the stem as well, leaving about 1 inch intact. Use a paring knife to remove the dark outer layer from the stem. Halve each artichoke lengthwise and scoop out the choke with a spoon. Transfer the artichoke to lemon water to prevent discolouration.When you're done, drain the artichokes and pat them dry. In a large saucepan, cook the artichokes with the thyme, garlic, bay leaves, peppercorns, and oil over medium heat until the oil around the artichokes bubbles. Reduce the heat and continue for 15 to 20 minutes, turning the artichokes occasionally. When the stems are tender when pierced with a knife, you know you're done. Let the artichokes cool in oil.

If you're using fresh fava beans, cook in a medium saucepan of boiling salted water until tender. That should take about 4 minutes. When it's done, use a slotted spoon to transfer the beans to a colander set in a bowl of ice water. Drain and peel the beans, then place in a large bowl. Alternatively, if you're using frozen beans, cook for 2 minutes and do not peel.

Return the water in the saucepan to a boil, then add the peas and cook until tender. This should take about 2 minutes. When done, drain and transfer to a colander in ice water. Then drain and add to the bowl with fava beans.

Use a slotted spoon to transfer the artichokes to the bowl with peas and fava beans. Add ¼ cup of the artichoke cooking oil, olives, pea shoots, mint, and remaining 2 tsbp. of lemon juice. Toss the mixture and season with salt and pepper.

For the salmon, bring the parsley, dill, lemon slices, lemon juice, wine, peppercorns, and 3 cups of water to a simmer in a large saucepan over medium heat. Season with salt. Add the salmon and cover the saucepan. Reduce the heat and simmer gently until just opaque throughout, which should take about 6to 8 minutes. With a large spatula, remove the salmon and lemon slices from the poaching liquid. Serve the salmon with the salad and lemon slices.

Fava and butter bean salad


Ingredients:


1 ½ cups shelled fava beans
½ lemon, juiced, or more to taste
1 clove garlic, crushed
1 pinch red pepper flakes, or to taste (Optional)
salt and ground black pepper to taste
¼ cup olive oil, divided
1 (14 ounce) jar butter beans, rinsed, and drained
½ cup diced roasted red peppers
2 tablespoons chopped fresh mintFirst, bring a large pot of lightly salted water to a boil. Add the fava beans and cook until the skins turn translucent and become easy to pull away. This should take about 6 minutes. Use a slotted spoon to transfer the beans to a bowl of ice water. Cool the beans to room temperature. Next, squeeze each bean at one end to remove the skin. Discard the skins and reserve the beans for later.Whisk the lemon juice, garlic, red pepper flakes, salt, and black pepper together in a large bowl. Slowly whisk 2 tbsps. of olive oil into the lemon juice mixture until the dressing is thick and emulsified.Next, stir the fava beans, butter beans, roasted red peppers, and mint into the dressing. Toss the mix to coat the beans completely. Drizzle the remaining olive oil over the top and season the salad with salt and black pepper. Cover and refrigerate for 1 hour to let the flavours blend, then serve.
Morel mushroom bisque


Ingredients:


½ cup butter
1 tablespoon minced garlic
1 large onion, diced
8 ounces fresh morel mushrooms, sliced
1 tablespoon chicken soup base
1 tablespoon all-purpose flour
2 cups water
2 cups heavy cream
⅛ teaspoon ground dried thyme
salt to taste
2 teaspoons ground black pepperStart by melting the butter in a large pot over medium heat. Stir in the garlic, onion, and morels. Cook the mix, stirring frequently until the onions soften and turn translucent, which should take about 5 minutes. Stir in the chicken soup base and flour, then cook for 1 or 2 minutes. Then pour in the water and cream. Bring the pot to a simmer and cook for 5 minutes.Use a blender to puree the soup after cooking. Work in small batches, filling the blender halfway each time. When you've pureed all the soup, return to the pot and cook on low heat for 10 – 15 minutes. Season with thyme and salt and pepper, then you're ready to serve.
Keep an eye out for more in-season recipes you can make to make sure you're eating fresh and healthy this spring. There's nothing quite like seasonal foods to make meals a little more special, so take your palate out on an adventure. Just remember to clean up the kitchen after you're done experimenting with the new recipes in your repertoire.

Cooking classes can be a great opportunity to learn something new, whether you're a beginner chef or you've got some culinary experience under your belt. At elle cuisine, we offer virtual classes to let you try your hand at making some spring season recipes yourself. Cooking can be a great hobby, and we're happy to introduce you to a brand new world. Give us a call now at 647.430.3553 to book a virtual class.