Corporate catering is an essential part of any successful business event, whether it's a company-wide meeting, a conference, or a product launch. It's an opportunity to impress your guests and make a lasting impression. However, planning corporate catering in Toronto can be a daunting task, especially in a bustling city like Toronto.
In this blog, we'll provide you with a comprehensive guide on how to make the most of your corporate catering event, from setting goals to selecting the right caterer and planning the menu.
Establish Your Catering Goals and Requirements
The first step in maximizing your experience in corporate catering in Toronto is to establish your goals and requirements. Here are some factors you need to consider:
Determine the event type – Different events have different catering requirements. For instance, a morning meeting may only require coffee and pastries, while a cocktail reception may call for hors d'oeuvres and drinks.
Identify dietary restrictions and preferences – You must consider the dietary restrictions and preferences of your guests to ensure they can enjoy the food. Whether it's vegetarian, vegan, gluten-free, or kosher, it's essential to provide a variety of options that cater to everyone's needs.
Establish a budget – Having a clear budget in mind will help you narrow down your options and avoid overspending. Make sure to discuss your budget with the caterer to find the best options that fit your requirements.
Choose the right catering style – There are different catering styles to choose from, such as buffet, family-style, plated, or cocktail reception. Consider the event type, guest count, and timeline to determine the most suitable option.
Selecting the Right Corporate Catering Service in Toronto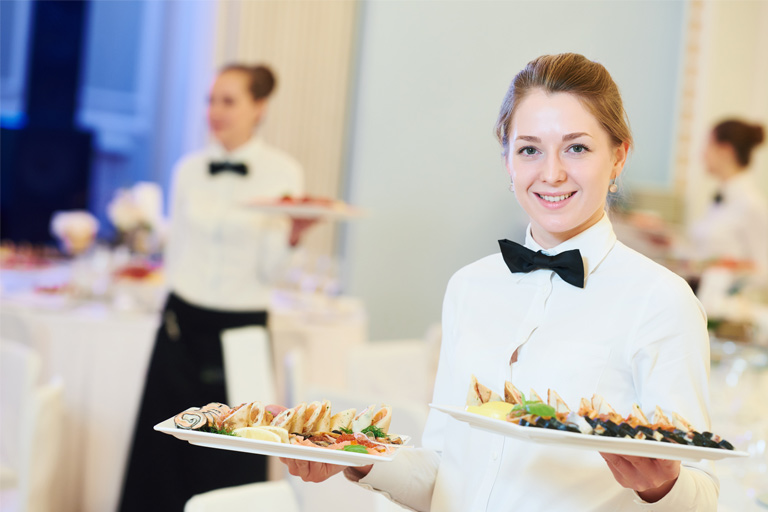 Once you've established your catering goals and requirements, the next step is to select the right corporate catering service in Toronto. Keep in mind these  tips to help you find the right caterer:
Research and shortlist catering companies – Do your research and compile a list of potential catering companies in Toronto. You can find recommendations from colleagues or check out online reviews and ratings.
Ask for recommendations and referrals – If you have colleagues or friends who have hosted successful corporate events, ask for recommendations and referrals.
Compare services and pricing – Once you have shortlisted potential caterers, compare their services and pricing to find the best fit for your budget and requirements.
Schedule a tasting session – Finally, schedule a tasting session to sample the food and see the presentation. This will help you get a better idea of the caterer's expertise and attention to detail.
Planning the Menu
The menu is the centrepiece of any successful catering experience, and planning it requires careful consideration. Here are a few tips you should remember:
Understand the event theme and audience – Consider the event's theme and audience when planning the menu. For instance, if it's a formal corporate event, you may want to opt for a more elegant and refined menu.
Select the appropriate cuisine and dishes – Choose the cuisine and dishes that best fit the event type and guest preferences. Toronto is known for its diverse culinary scene, so don't be afraid to try something new.
Balance healthy and indulgent options – Providing healthy options, such as salads or fruit platters, is essential to cater to dietary restrictions. However, don't forget to include some indulgent options, such as desserts or pastries, to add some excitement.
Choose suitable beverages and desserts – Beverages and desserts are essential components of any catering experience. Consider providing a variety of options, such as tea, coffee, cocktails, or wine, to cater to different tastes.
Coordinating with the Caterer
Coordinating with the caterer is essential to ensure a smooth and successful Toronto catering experience. Here are some tips to follow:
Communicating your expectations and requirements – Be clear and specific about your expectations and requirements when communicating with the caterer. Provide them with all the necessary information, such as event date, time, location, guest count, and budget.
Confirming the catering details and timeline – It's essential to confirm all the catering details, such as menu items, setup, and service timeline, before the event. This will help you avoid any last-minute surprises or delays.
Coordinating logistics and setup – Make sure to coordinate the logistics and setup with the caterer, such as the delivery time, setup location, and equipment requirements. This will ensure a smooth and efficient setup process.
Ensuring prompt and professional service – Finally, ensure that the caterer provides prompt and professional service throughout the event. This will help you make a positive impression on your guests and leave a lasting impact.
Making the Most of the Catering Experience
Once the catering experience is set up and running, it's essential to make the most of it. Here are some tips to follow:
Setting the right ambiance and atmosphere: The right ambiance and atmosphere can enhance the overall catering experience. Consider factors such as lighting, music, and decor to create a welcoming and pleasant environment.
Encouraging guests to try different dishes – Encourage your guests to try different dishes and engage with the caterer. This will help them appreciate the effort put into the catering and create a sense of community.
Providing feedback to the caterer – Providing feedback to the caterer is essential to improve future catering experiences. Make sure to share your thoughts and suggestions on what worked well and what could be improved.
Networking and building relationships – Corporate catering in Toronto is an excellent opportunity to network and build relationships with clients, colleagues, and partners. Take advantage of the catering experience to connect with others and create meaningful connections.
At elle cuisine, we specialize in creating memorable catering experiences that cater to all your requirements and preferences. Contact us today at 647.430.3553, or use our contact us form to request a quote for corporate catering in Toronto.