Human imagination has always been captivated by unexplained phenomena and spooky creatures in the night. So whether it's for the costumes, tricks, or treats, almost everyone agrees Halloween is a much-anticipated time of the year. A Halloween party is an occasion that both young and old may enjoy, be it at home or in the streets. Unfortunately, the pandemic has changed all that. Health authorities released guidelines prohibiting mass gatherings in hopes to curb the spread of the virus and keep everyone healthy. 
Can you have a Halloween party during COVID-19? 
Halloween may still be possible if COVID-19 cases around you are low. Thankfully, 2021 is faring much better than last year, but make no mistake — social distancing, masks, and hand washing are all vital steps to prevent the spread of the virus, regardless of how you celebrate Halloween.
Yet, many experts believe that with a little flexibility and ingenuity, pleasure may still be had. With careful Halloween party planning, here's how you can celebrate the best and safest trick-or-treating this 2021.
Pre-Halloween Planning
To make sure everything is in place and you get to enjoy the occasion, you first need to give yourself enough time to plan and gather all of the necessary Halloween party supplies.
To get you started, here's a checklist on how to plan a Halloween party for all ages:
Traditionally, Halloween is celebrated on All Hallow's Eve or October 31, but this year, it would probably be best to consider your circumstances. First, October 31 will most likely be a busy day. If you're planning on an intimate, social-distanced celebration, it's best to reschedule than risk bumping into the crowd. Besides, your guests may also be throwing their own Halloween bash.
As a result, it's usually a good idea to set the party on a day that everyone may be available, perhaps on a weekend nearest October 31.
One of the most important aspects of party preparation is having a proper guest list. Remember that some areas may not allow gatherings of more than 10 people, so a guest list may allow you to regulate your visitors well. You can also only invite people who are vaccinated or have negative test results to keep the party safe. Finally, this will also assist you in creating a budget and planning the space for your special occasion.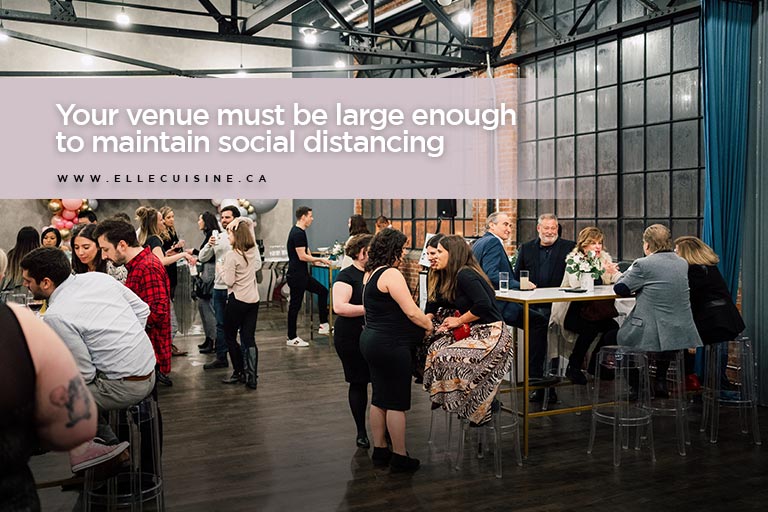 The pandemic has placed some restrictions on how you can manage events. The venue is one thing you should think about carefully. There are several places to have a Halloween party, and deciding which will depend on the number of guests. If you are planning on inviting a large number of people, you have to book a venue that can accommodate twice as large to make space for social distancing. For example, if you're expecting 50 guests, your venue must be able to handle 100 people. 
Or, you can have it at your home to save money. Since the party will be held on your property, you have more freedom on decorations and activities. Just be sure it won't disturb your neighbourhood.
Invitations are far more significant than you may realize. They set the tone for the party long before it begins. After you've settled the main details of the event, the next step is to send out your invitations. Make sure your invitations are in line with the party's theme.
On the invitation, include any particular information that will assist your visitors in planning for your party. One thing attendees need to know about going to a Halloween party is whether or not you need to attend in costume. Don't forget to include instructions or a theme, if any.
Shop at your local thrift stores for decors
If you're planning on buying Halloween party decorations and supplies, try your local thrift stores rather than the department stores. More often than not, other stores have plain, mass-produced, and overpriced supplies, while local thrift stores have better, cheaper, and, sometimes, more unique pieces that can elevate your party decor. In addition, shopping at thrift stores can also help small local businesses in your area bounce back after the pandemic.
Halloween Day Ideas
Halloween isn't cancelled just yet. All you need to do is modify your celebration to meet the prevailing regulations. Here are 10 tips for throwing a Halloween party safely:
Establish a Halloween theme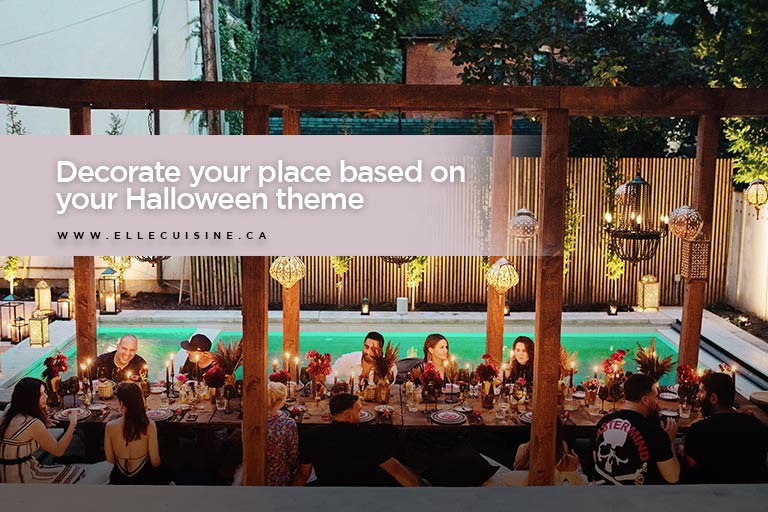 Halloween is a rich holiday. You can either opt for a sweet costume celebration or a frightening adventure for your party. Whichever theme you'll end up choosing will influence the way you plan and decorate the party. 
Lighter Halloween characters like Jack-o'-lanterns and friendly ghosts are great if you want to keep it fun and casual, and vampires, zombies, and witches are all fit for much darker themes. It's also a great idea to mix the adorable with the frightening if you want to appreciate all of the wonderful aspects of Halloween. If any of your friends are easily scared, you may try decorating two rooms with distinct themes to ensure that everyone enjoys themselves.
Prepare Halloween-inspired food
Halloween is the one day of the year when eating unfamiliar food is a thrilling experience. There are a lot of spooky snacks you can prepare, and if you're planning to order your food, there are caterers that would happily oblige to your Halloween-inspired requests.
The possibilities are endless — from biscuits frosted to look like witch hats to tangerines peeled and adorned with mint to appear like pumpkins. If you want a frightening centrepiece, fill a cake with strawberry preserves and cut it into it so that it "bleeds." The good thing is that you can prepare meals for any occasion. Appetizers, main courses, and desserts can all be turned into celebratory delights.
Use a cauldron for your festive punch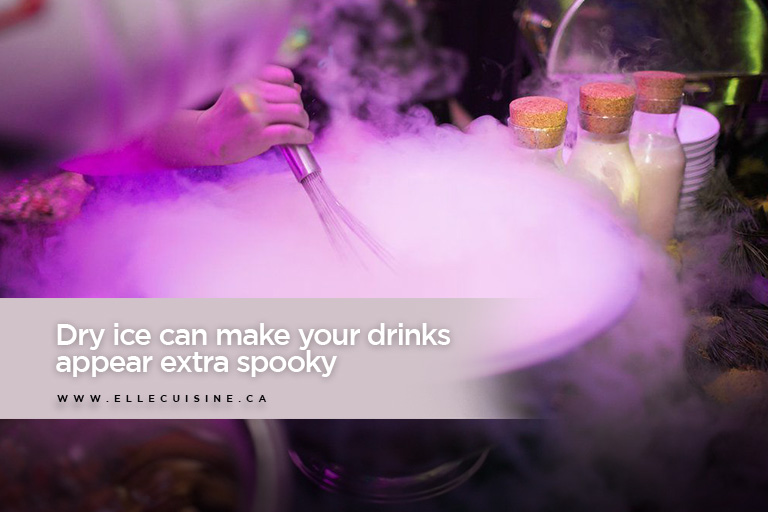 A punch bowl is a must-have for any party. Amp up your Halloween drinks by serving them in a cauldron instead. You may even buy a zombie hand that can hold the ladle if you truly want to scare your visitors. Chill the drinks with eyeball or skull ice cubes to make your beverage even more frightening.
What's more?  Add some food-grade dry ice to the drink before guests arrive. When mixed with liquid, dry ice produces fog which will appear as if your cauldron contains a steaming potion. Because it's cold, it'll help keep the drinks cool too.
Find a safer way to hand out treats
If you're participating in a neighbourhood trick-or-treat, meet with some families and agree on a safety protocol and route, and kids (and adults) can only collect treats along that route. 
It is recommended that you wrap treats in grab-and-go goodie bags, and place them in your yard or on your stoop so people can simply come and pick them up. This limits face-to-face interaction while still allowing everyone to collect their treats. If you want to distribute the candies the old-fashioned way, remember to always wear your mask and have a hand sanitizer ready.
Create a Halloween playlist
It won't be a great Halloween party without the classic Halloween hits like Michael Jackson's "Thriller" to set the mood. This part should be easy. Streaming devices like YouTube, Spotify, or Pandora have a wide selection of playlists specifically for this occasion. All there's left to do is for you to connect your phone to a speaker and get the party started.
Take it a bit further by learning a Halloween dance. Search YouTube for great dance moves or you can choreograph the whole thing on your own. This could be a great culmination to your party, or as a bonding experience for the whole family to move and enjoy together.
Have a scary movie marathon
If you're up for some haunting stories, prepare the popcorn and get cozy. Halloween is the perfect time to rewatch all your favourite horror and suspense movies. To better set up the mood, you can arrange the projector and screen outdoors instead and hold a marathon of all Halloween-inspired movies and television episodes for a few friends.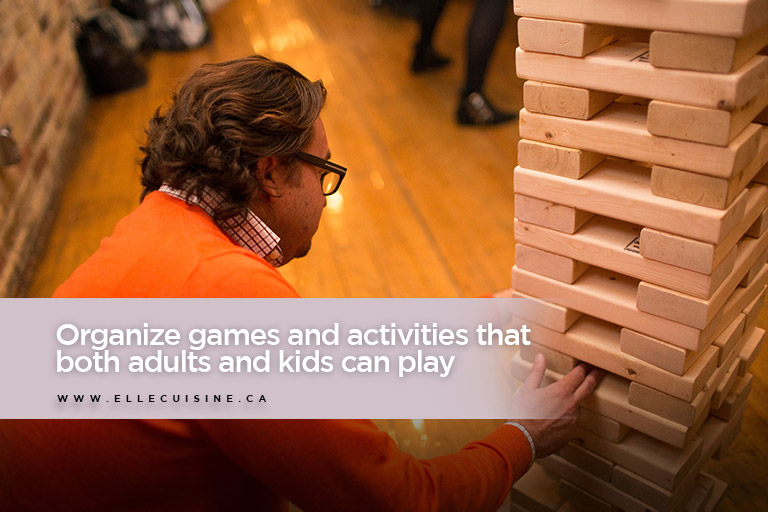 Halloween party games appeal to adults as much as they do to the kids. There are several family-friendly activities you can organize:
Hide treats throughout your house… and maybe some surprise shocks in between the candies. You can even invite your neighbours to join you in the hunt by asking your neighbours if they may conceal goods in their front yards for safe outdoor adventures.
Pumpkins are staples during Halloween, and you can make a friendly competition out of it too. Prepare the pumpkins and an arts and crafts table and let your guests' imagination run wild. Whoever decorated the scariest (or most creative depending on your criteria) wins. 
If you want something more mind-boggling, organize a murder mystery party. A Murder Mystery Party is a game in which guests participate in the investigation of fictional death. This classic roleplaying game of "whodunit" can be a great way to keep your curious Halloween guests entertained.
Go bold with your tricks and pranks
If there's any time when pulling pranks is acceptable, it's Halloween. So, you're encouraged and will be forgiven if you decide to go bolder with your tricks and pranks.
There are a few party tricks you may use to entertain your guests. You can make your friends sit in a circle with their eyes closed and their hands open to scare or disgust them. When people cannot see, their imaginations tend to go wild. Then, hand them a variety of frigid, slimy, and squishy objects to freak them out.
You can also hide life-sized dolls or mannequins in discrete areas of your house. You're sure to scare anyone who happens to go there. Plus points if you can incorporate some creepy background music. 
Wear your costume

…

safely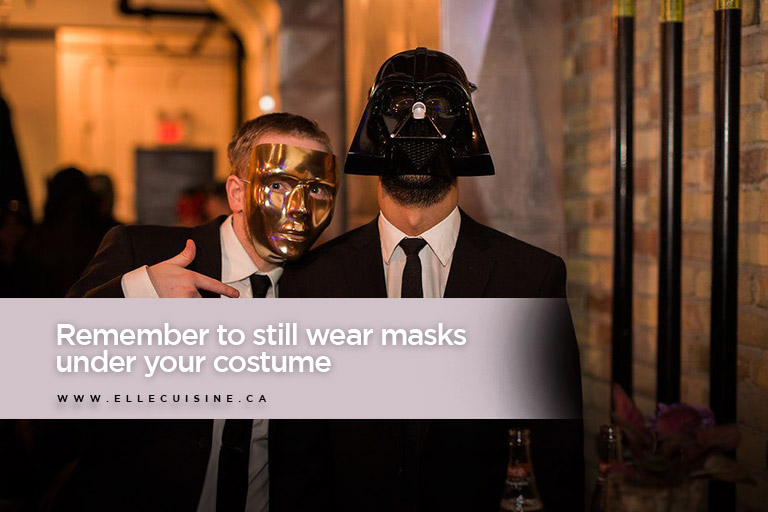 Costumes are a must for Halloween parties, and while it is necessary to wear personal protective equipment if you're going out, this shouldn't stop you from flaunting your best get-up.
This is the year to don your ninja costume—or wear a second safety mask underneath your Michael Myers or ghost masks. You can also purchase a plain face mask and bedazzle it with glitter, sequins, and markers. Incorporate eerie shapes or amusing patterns, and wear your creation everywhere you go.
Consider Zoom and social-distanced parties
When it's entirely possible to host a face-to-face party this year, it doesn't mean you have to cancel Halloween altogether. Virtual dinner parties are a thing, and they can be as fun as in-person celebrations.
To host a virtual event, use a video chat app such as Zoom, FaceTime, Google Hangouts, or Skype. Invite your friends to a spooky singalong, dance party, or group chat. You can even still play games or cozy up for a movie marathon together online.
When the coronavirus pandemic is over, you can resume your favourite Halloween activities the traditional way. For now, extra caution must be applied when hosting a Halloween party during the pandemic. But, this shouldn't prevent you from having fun. With a little creativity and these Halloween party ideas, you can tweak your trick-or-treat celebration to conform with today's regulations.
If you're thinking of what to serve at your Halloween party, elle cuisine got you covered. We offer boxed and virtual experiences as well as private catering for special occasions so you can still enjoy scrumptious meals during the pandemic. Call us at (647) 430-3553 to place your order now.