With childhood obesity rates rising, offering nutritious food choices for children's parties is more important than ever. However, being healthy doesn't have to mean being boring! By incorporating creative and fun ideas into the menu, like those at Toronto catering services, kids can enjoy delicious and healthy snacks without realizing they're eating something nutritious.
Let's look at some healthy menus and creative recipe ideas from a trusted corporate catering event expert in Toronto, elle cuisine, which will surely be a hit for kids and parents.
Menu #1: Mini Sandwiches and Wraps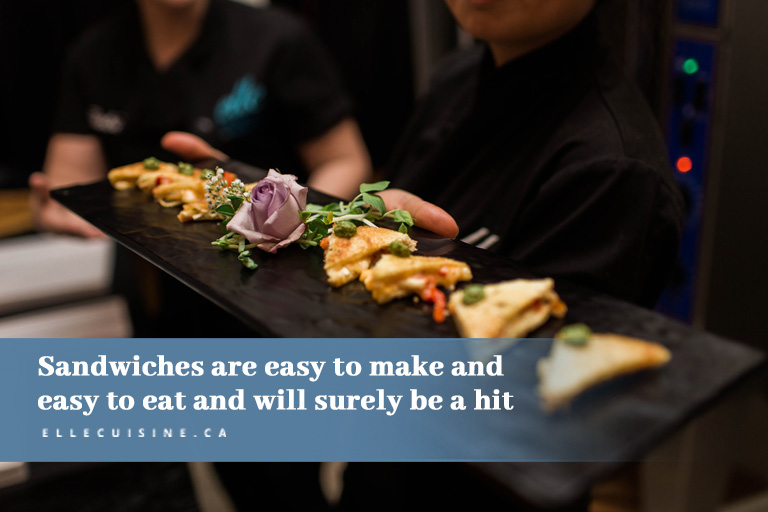 Mini sandwiches and wraps are a great option for kids' parties because they are easy to eat and can be customized to fit different dietary needs. You can include options like turkey and cheese, peanut butter and jelly, and vegetarian options like hummus and veggies. Make sure to include a variety of bread and wraps, such as whole wheat and gluten-free options.
Menu #2: Build-Your-Own Taco Bar
Kids love tacos, and a build-your-own taco bar is a fun and interactive way to offer a healthy and delicious meal. Put up a station with bowls of seasoned meat, beans, cheese, lettuce, tomatoes, and other toppings and let the kids build their tacos. For a healthy alternative, substitute grilled chicken or turkey for beef.
Menu #3: Fruit and Veggie Platters
Fruit and veggie platters are a great way to add colour and nutrition to your party menu. Include a variety of fruits like strawberries, grapes, and pineapple, and veggies like baby carrots, cucumbers, and cherry tomatoes. You can serve them with healthy dips like hummus or yogurt-based dips.
Menu #4: Mini Pizzas Bites
Mini pizza bites are a crowd-pleaser for kids and adults alike. Use whole wheat or cauliflower crust and offer a variety of toppings, like cheese, turkey pepperoni, veggies, and pineapple. You can even make them in fun shapes like hearts or stars to make them more appealing to kids.
Menu #5: Smoothie Station
A smoothie station is a great way to offer a healthy and refreshing drink option for your party guests. Put up a station with a blender, frozen fruit, and yogurt, and let the kids make their smoothies. You can offer various fruit options like strawberries, bananas, and blueberries and add spinach or kale for an extra nutritional boost.
Menu #6: Pasta Bar
Pasta is always a hit with kids, and a pasta bar allows them to choose their favourite sauce and toppings. Offer pasta options like spaghetti, penne, bowtie, and sauces like marinara, alfredo, and pesto. You can also include toppings like grilled chicken, sautéed veggies, and Parmesan cheese.
Menu #7: Mini Slider Burgers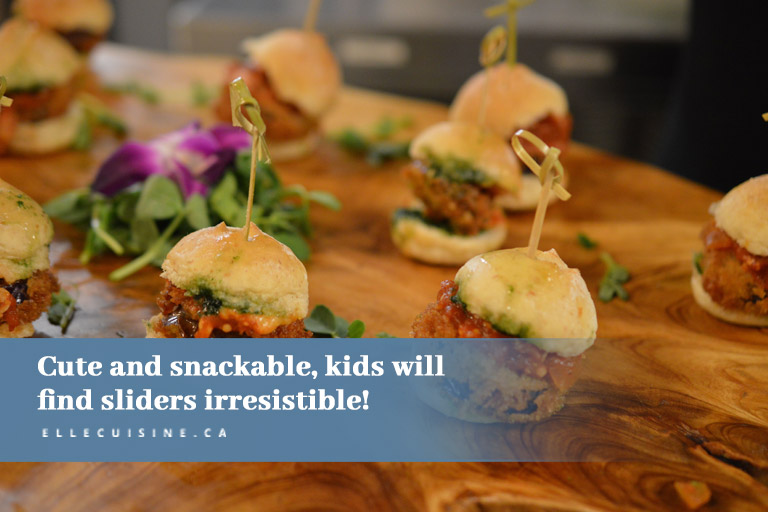 Mini slider burgers are a fun and easy option for kid's parties. Use lean ground beef or turkey and serve them on small whole wheat buns. Offer toppings like lettuce, tomato, cheese, and pickles. You can also make vegetarian options with grilled portobello mushrooms or black bean burgers.
Menu #8: Grilled Cheese Bar
Grilled cheese is a traditional comfort dish that children like. Set up a station with bread options like whole wheat, sourdough, or gluten-free. Offer a variety of cheeses like cheddar, mozzarella, and Swiss. You can also include toppings like bacon, ham, or sliced tomato.
Menu #9: Snack Mix Bar
A snack mix bar is a fun and easy way to offer a variety of snacks for kids to choose from. Set up bowls with options like popcorn, pretzels, nuts, and dried fruit. You can also include some healthier options like air-popped popcorn or roasted chickpeas.
Menu #10: Rainbow Fruit Skewers 
Rainbow fruit skewers are a colourful and healthy option for kid's parties. Cut up various fruits like strawberries, kiwis, pineapple, and blueberries and skewer them on wooden sticks. You can also include a yogurt-based dip for extra flavour.
Menu #11: Mini Fruit Pizzas
Mini fruit pizzas are a fun and healthy dessert option for kids. Use whole wheat or oatmeal cookies as the base, and top with a layer of Greek yogurt or cream cheese. Then, add a variety of fresh fruit like strawberries, kiwi, and mango to create a colourful and tasty treat.
Menu #12: Quinoa Salad Cups 
Quinoa salad cups are a nutritious and easy-to-eat option for kids' parties. Mix cooked quinoa with diced veggies like cucumber, bell pepper, and cherry tomatoes, and add a simple vinaigrette dressing. Serve the quinoa salad in small cups or bowls for easy portion control.
Menu #13: Sweet Potato Fries 
Sweet potato fries are a healthy and tasty alternative to traditional fries. Cut sweet potatoes into thin slices and bake in the oven until crispy. Serve with a side of ketchup or a yogurt-based dip for dipping.
Menu #14: Baked Chicken Tenders 
Skip the deep-fried chicken tenders and opt for a healthier baked version instead. Coat chicken strips in whole wheat bread crumbs and bake until crispy. Serve with various dipping sauces like honey mustard, barbecue, and ranch.
Healthy and creative menu options for children's parties don't have to be boring. With these 14 recipe ideas, you can offer nutritious and delicious snacks and meals that kids will love. However, when looking for ways to make your children's party more nutritious and hassle-free, consider using food catering services to ensure the food is healthy and delicious and allow yourself more time to enjoy your child's special day.
No Need to Stress — Leave It to the Experts of elle cuisine!
For reliable "home catering services near me" that offer a range of healthy and delicious food options for your children's party, look no further than elle cuisine! We specialize in providing personalized and private catering services and luxury events in Toronto, including children's parties. Our experienced chefs and event planners in Toronto can assist you in creating a healthful, engaging, and visually appealing menu. Whether you're looking for traditional party snacks or more upscale options, we can provide a wide range of kid-friendly party food options that will impress even the most discerning palates.
So relax and let us handle the food to make your child's party a joyful and memorable event for all! Contact us today at 647.430.3553 to learn more about our sustainable catering services or to book an appointment.