With Halloween just around the corner, there's a palpable buzz in the air. There will be costumes, decorations, and, of course, the anticipation of the festivities. But as with any celebration, the food often takes centre stage. If you live in a bustling city like Toronto, where the culinary scene is diverse and rich, choosing the suitable dishes for your Halloween party can be exciting and daunting.
If you want to ease some of the pressure with the party planning, consider catering in Toronto. These services offer a broad range of Halloween-themed dishes, ensuring your menu is as memorable as the costumes and decorations.
Whether you need to hire catering for small parties or a huge get-together, having a well-curated list of catering ideas will make the process smoother. Here are some suggestions to inspire your Halloween feast and guarantee a delightful experience for all your guests.
Finger Licking Appetizers
Appetizers are the introductory chapter to any successful catering menu. At a Halloween event, it's all about balancing theme and taste. Imagine your guests nibbling on cheddar witches' fingers or witch-finger cookies—playful takes on finger food that capture the Halloween spirit.
Another must-add to your appetizer menu is the classic graveyard crackers with rich taco dip. As guests enjoy the festivities, ensure that the appetizers not only cater to the Halloween theme but also provide satisfying and varied options. After all, Halloween parties demand both festive snacks and heartier dishes to fuel the fun.
Pumpkin Dishes
Halloween and pumpkins are an iconic duo. When considering a catering company for your event, check out their offerings for seasonal favourites. Classics such as pumpkin spiced latte, pumpkin bread rolls, and pumpkin spice martinis are surefire hits.
But don't feel boxed into traditional choices. Embrace the spirit of Halloween and get inventive with your menu. Consider items like pumpkin cheese balls, which are delectably cheesy, crafted to resemble pumpkins, or jack-o'-lanterns created from stuffed bell peppers. While not all these dishes might contain actual pumpkins, their festive appearance will seamlessly blend with the Halloween ambiance.
Wicked Treats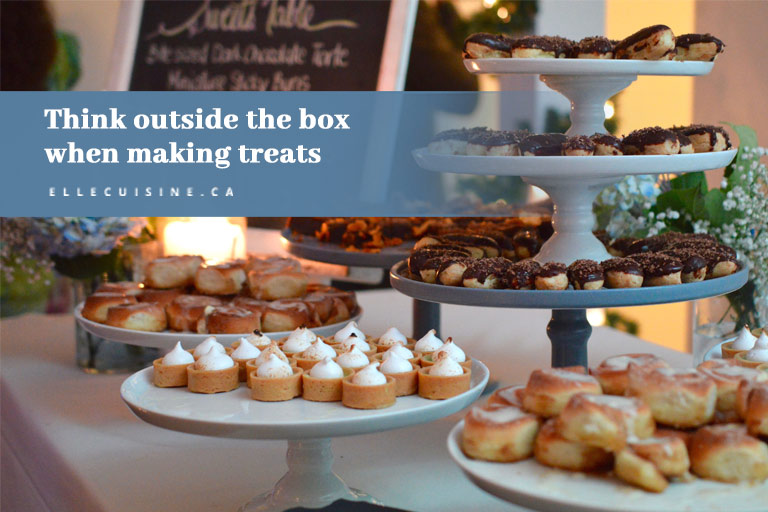 Your Halloween party table wouldn't be complete without bowls of candy, but why stop there? Elevate your sweet offerings with catering platters laden with cookies, brownies, and blondies. Favourites like chocolate fudge brownies, oatmeal and raisin cookies, or white chocolate chip cookies with macadamia nuts, all individually wrapped, are also perfect additions. These mini treats also make delightful takeaway gifts for party guests.
For any specialized or custom dessert requests, ensure you place orders well in advance. This gives your catering company adequate time to prepare, ensuring timely delivery for your Halloween bash.
Spooky Drinks
Halloween festivities call for some bewitching beverages to spice up the night. Blood-orange blackberry cocktails, with their dramatic red drip, give the illusion of a vampire's favourite drink. Bloody Marys, with their rich tomato base, is another hauntingly fitting choice. And butterbeer remains a beloved classic for those seeking a touch of magic! Not only does it bring back memories of enchanting tales, but it's also a guaranteed crowd-pleaser.
Adult beverages should take a backseat if younger guests attend or the party is exclusively for little monsters. But that doesn't mean you can't have fun with the drink menu! Opt for fruit punches with an extra touch of red for a bloody effect. Shakes can be customized to resemble ghostly milkshakes, while green smoothies can be dubbed "Frankenstein Smoothies." And, for a tasty and tactile drink, a slime punch will surely delight and surprise the young ones.
Blood Fountain
Elevate the beverage experience at your Halloween bash with a striking blood fountain. This isn't just about aesthetics; it's also about tantalizing the taste buds. Choose a fruit punch recipe with a rich hue similar to blood, ensuring appearance and flavour match. And for that added touch of spookiness? Consider integrating a fog machine nearby. The misty ambiance it creates will further enhance the eerie allure of your blood fountain, making it an unforgettable focal point of the party.
DIY Food Stations
The DIY food station is one of the hottest trends in party planning, especially when incorporating catering food. It's an interactive experience that allows guests to customize their dishes, blending fun with flavours in an engaging way.
Consider a 'Build Your Own Monster Pizza' station for a Halloween-themed event. With catering food ingredients like olives for eyes, strips of bell pepper for stitches, and pepperoni for ghastly grins, guests can create their own spooky (and delicious) masterpieces.
Another fun idea could be a dessert decorating station. With a spread of cupcakes or cookies and an array of toppings from gummy worms to candy eyeballs, it's a sweet way for guests to get into the Halloween spirit.
Fresh Fruits and Veggies with a Twist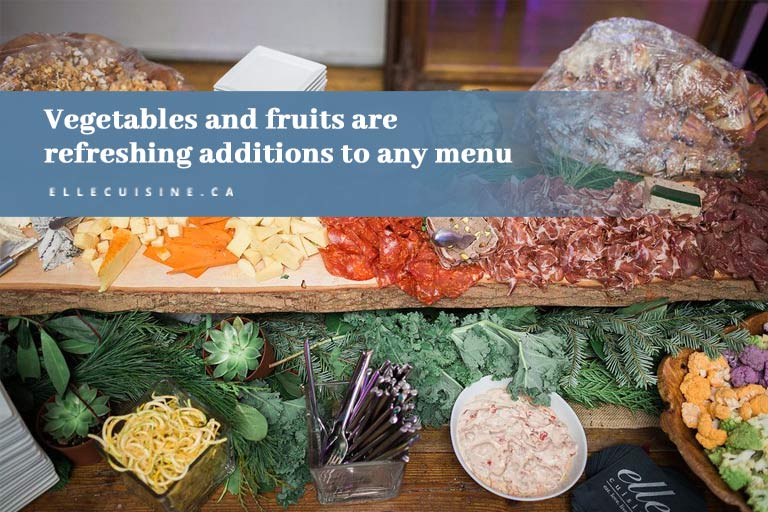 While Halloween is synonymous with candies and treats, striking a balance in food offerings is vital. Party platters laden with fresh fruits and vegetables provide a refreshing counterpoint amidst the sugary indulgences. The beauty of such party platters on Halloween is the scope for imagination and creativity. Instead of a standard presentation, you can craft an artful edible display that offers nutritious bites and captivates the eyes. The possibilities are endless, from carved melon skulls to cucumber mummies, allowing you to transform ordinary produce into extraordinary Halloween masterpieces.
Midnight Snacks
Whether your Halloween event is an all-nighter or runs late, having a selection of midnight snacks on hand is a must. These shouldn't be full meals but light, delectable treats that guests can grab on the go.
Consider trays of mini grilled cheese sandwiches warmed to perfection or petite bowls of savoury pumpkin soup. Sliders with a spooky twist, like a "vampire bite" cranberry sauce, can be both thematic and satisfying.
By introducing these snacks as the night progresses, you'll ensure your guests are well-fed and content. Remember, event catering is not just about the main courses but also those unexpected delights that can make an evening truly memorable.
Halloween isn't just about the costumes or the ghostly decor; it's a full sensory experience, and taste plays a huge part! Whether you're taking inspiration from the suggestions above or adding your twist, remember it's all about setting a memorable table.
If you're considering going the event catering route, the pros have your back with tantalizing dishes that capture the Halloween spirit. So, get out there and serve up some spine-chilling delights that'll have your guests talking for weeks.
Trusted Catering Services in Toronto
Do you need a spooktacular catering service in Toronto? Look no further! At elle cuisine, we're all about creating unforgettable culinary experiences. Let us elevate your party with delicious dishes and enchanting atmospheres this Halloween. Whether you've got your menu mapped out or are seeking inspiration, we're here to make your Halloween catering menu hauntingly delicious.
Ready to chat with one of our event planners? Give us a ring at 647.430.3553.