If you want a consistently productive team of employees, you need to make sure they are mentally and physically well. As the employer, one way you can support your employees is by providing them with enough fuel, like healthy food, to help them get through the day.
Be it snacks, drinks, or a full lunch meal, setting aside a budget for your employees' food catering will go beyond providing nutrition or addressing hunger. Corporate catering can also help them improve their performance dramatically.
It's a great addition to the special private event catering you provide during holidays, retirement announcements, and company achievements.
Investing in your company means valuing your employees as well. If you want talented, dedicated, and loyal individuals to go the extra mile in helping you develop your business, then you need to make an effort in making them feel valued.
Through this simple act of providing catering regularly, your company can:
1. Attract and Retain Employees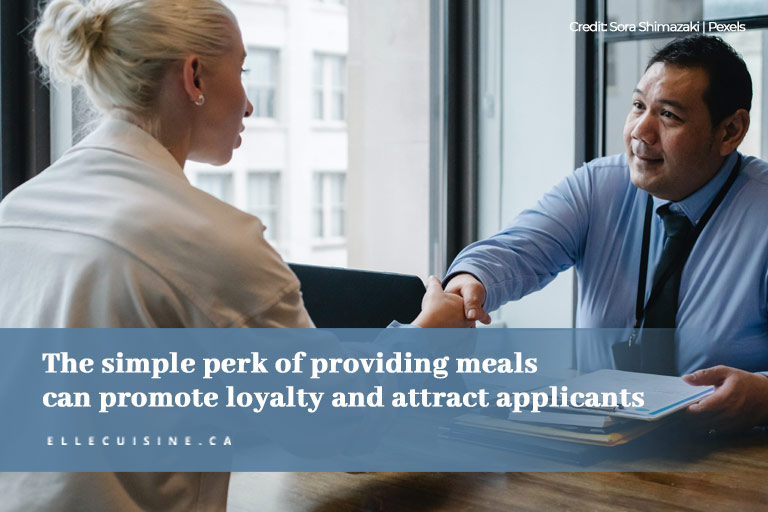 Studies show that employees today are more likely to consider applying for companies that offer additional perks to their workers. Catered food for breakfast, snacks, and lunch is something that employees will highly enjoy. It incentivizes current employees to stay and more employees to apply. Doing so will also give them more time to focus on work, rather than going out to buy food or preparing it at home.
If you're just starting and looking to gain new and loyal talent, make sure to contact good catering companies to partner with you.
2. Stand Out From the Competition
Attracting the best talent for your company will require more than just offering them a standard pay grade. You have to show your employees why it will be worth it for them to join you.
The food catering incentive that you provide will give you an edge over your competitors who will be offering roughly just the same experiences and wage range.
Offering free meals is a direct reflection of your values as a company as it shows that you give much importance to creating a healthy workspace for them. At the end of the day, the current workforce doesn't just care about having a liveable wage. They have to gain meaningful connections as well while working for a company that understands their worth. Having enough food in the pantry for snacks, lunch, dinner, or breakfast will also encourage them to come to the office on time regularly.
Shared food spaces like cafeterias can also become common areas, where you, as an employer can talk to your employees on a more personal level and understand their roles and challenges for the company. This interaction will promote a more collaborative work culture, rather than a competitive one.
3. Promote Healthy Eating
A healthy body results in a sound mind, which in turn produces better ideas. By providing nutritious dishes to your employees, they'll have a stronger immune system, reducing sick leaves and absences while increasing company productivity.
It can also slowly nourish their brains, which will help them optimize their skills and performance at work. Additionally, these healthy options will prevent susceptibility to sedentary lifestyle diseases, which could lower the costs of insurance.
To promote healthier habits in the office, you can hire a vegetarian or vegan catering service.
4. Increase Employee Productivity
Food is the fuel that keeps the body and mind going in the middle of a stressful workday. By providing your employees with healthy and filling options for meals and snacks, you will be giving them the much-needed energy that will push them to optimize their productivity.
The nutrients will power both their body and brain, which can significantly affect their creative ideas, movement in the office, and collaboration with other employees. Studies even show that a healthy lunch meal increases your employees' productivity by 150%! Those numbers alone prove that it's an excellent investment.
5. Improve Collaboration and Boost Morale 
The feeling of hunger and thirst can demotivate anyone's mental and physical mechanisms right away. The lack of food during a 10-hour work period, when doing overtime, will dramatically lower the energy of your employees.
If you want to have an enjoyable and lively work culture in the office, food is your solution. Through corporate event catering, you'll be allowing them to mingle with each other more (even with other members from other departments), promoting cooperation, unity and collaboration in the company.
Instead of having them eat in their own cubicles, provide a comfortable space where all can socialize, share ideas, and work together.
6. Make Meetings Productive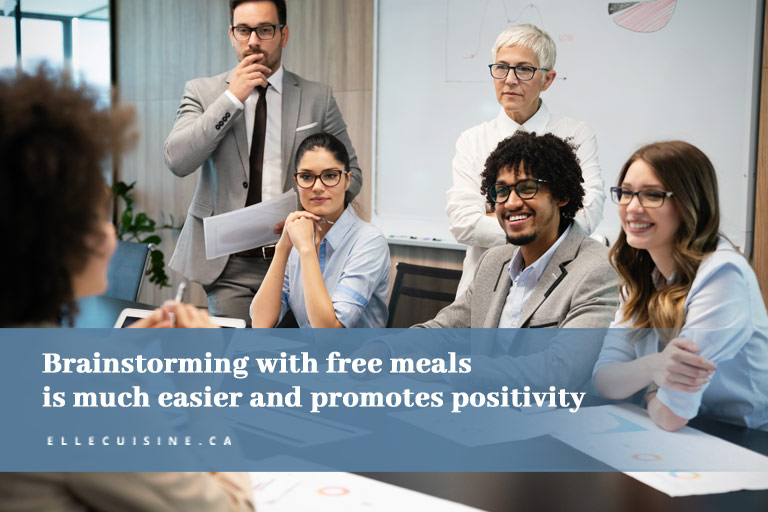 An excellent and productive meeting relies heavily on employees contributing valuable ideas.
If you have a meeting or brainstorming session that will need an entire day, it would be better if you have food catering for convenience, which will help keep the discussions going while they eat.
7. Offer a Different Menu Everyday
Employees typically get their meals from the same restaurants near your company. Having the same food over and over again will seem monotonous and can dull the mood in the workplace.
Providing a variety of dishes will surely inspire them to be more creative and allow them to better appreciate the extra perks that they get. Free food can never fail to make people happy and having a wide selection of meals can incite excitement.
The benefits of providing corporate catering for your employees far outweigh the expenditures involved. With better productivity levels, higher employee retention rates, and a positive overall company image, you will have little to no trouble maintaining your bottom line.
If you want your company to succeed and you intend to attract and retain premier talent, then invest in your employees' workplace experience. One way to do that is by offering, free quality food. If you plan to open a cafeteria or provide daily office catering for your employees in Toronto, contact elle cuisine. We provide various catering options for any event. Call us now at 647.430.3553 to request a quote.