It's considered the most wonderful day of the year. Every single person looks forward to celebrating the holiday to spend time with loved ones over a scrumptious meal. Despite this, many people find Christmas dinner to be one of the most stressful meals of the year to prepare. There are ingredients to be bought, desserts to be prepared, and there is a growing pressure of having to arrange a spectacular Christmas meal.
The concept of a delicious home-cooked meal enjoyed with the people you care about gets lost somewhere in the process, and worry and over-complication take over. The holidays do not have to be stressful. Follow these 10 tips on how to have a stress-free Christmas dinner:
This is the first and most significant piece of advice on the list. Make sure you have everything you need in the days running up to Christmas. Prepare all of your food and beverage purchases by December 22 — or even earlier — to avoid a last-minute grocery run at your local store. On the day of the dinner, make a to-do list and figure out how long everything will take to cook. If possible, create a schedule.
Set and keep to a budget to avoid being caught up in a flurry of Christmas buying and having to deal with a massive bill. This is the easiest approach to figuring out how much you can truly afford to spend, and it will save you time and hassle closer to the big day. Be practical and use items you already have at home, like decorations from the previous year, paper plates, and napkins.
Sit down with a pen and paper weeks before Christmas and start jotting down exactly what you plan on creating over the holiday season. This allows you to determine the things you need to accomplish while sticking with the budget.
Don't hesitate to ask for help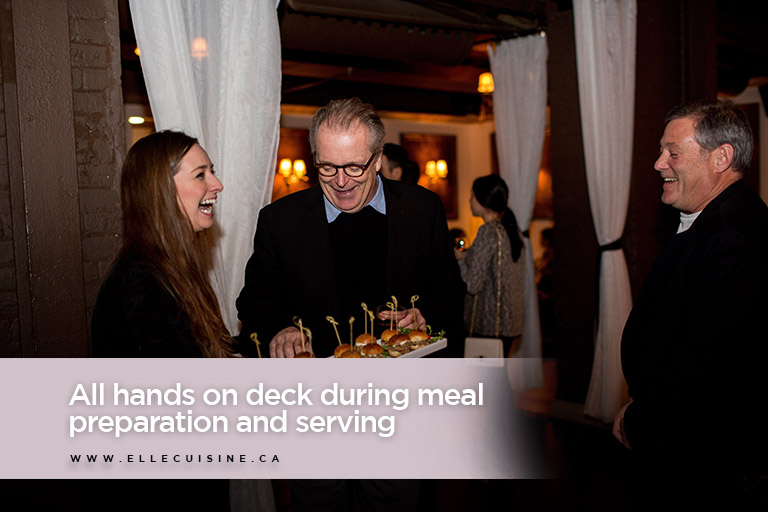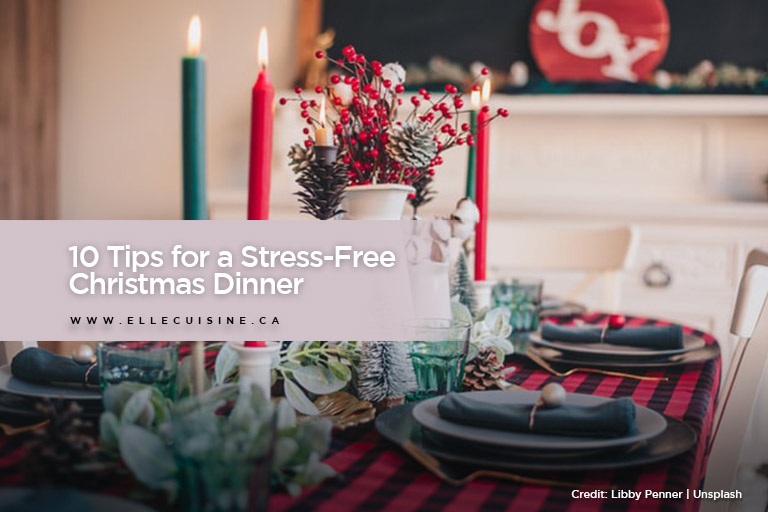 Hosting a Christmas dinner could seem like a personal project, but you can't accomplish everything on your own. There's no harm in accepting friendly contributions from family and friends who would want to bring side dishes or additional snacks. You can also delegate some tasks to members of your family, such as setting the Christmas dinner table, drying dishes, or peeling potatoes. Christmas is all about spending quality time with family and friends. So, why not involve everyone in the meal preparations?
When cooking dinner, you'll most likely use every pot, pan, and utensil in sight. At the end of the night, you may end up having a large pile of dirty dishes to clean. You can avoid this by clearing up and loading the dishwasher as you go. Instead of being tethered to a washing-up bowl for an hour after dinner, you'll be able to relax and enjoy the after-dinner celebrations with your family.
Families tend to have Christmas dinner must-haves or traditions. But if these have become a source of stress, consider minimizing them if not dropping them entirely. A lamb barbeque is far easier to prepare than a roast turkey. An ice cream cake is easier to make than a Christmas pudding and peanut butter cookies take less time to cook than shortbread. You don't have to make 10 different kinds of cookies; just make one that your family enjoys. This helps you keep your cool and possibly start a new tradition.
Plan Christmas dinner in advance
Make sure to plan your meal and guest list ahead of time. Send out Christmas dinner invitations, so you can gauge how much you have to prepare. You can even start preparing the dinner ahead of time.
Any vegetables that will be roasted, such as potatoes and carrots, can be peeled and chopped the night before and placed in pans of cold water. Check also what meals you can prepare in advance. All of this will also free up fridge room on Christmas Day. It's also a good idea to take stock of the ingredients the night before, checking things like cooking oil, butter, and salt and pepper.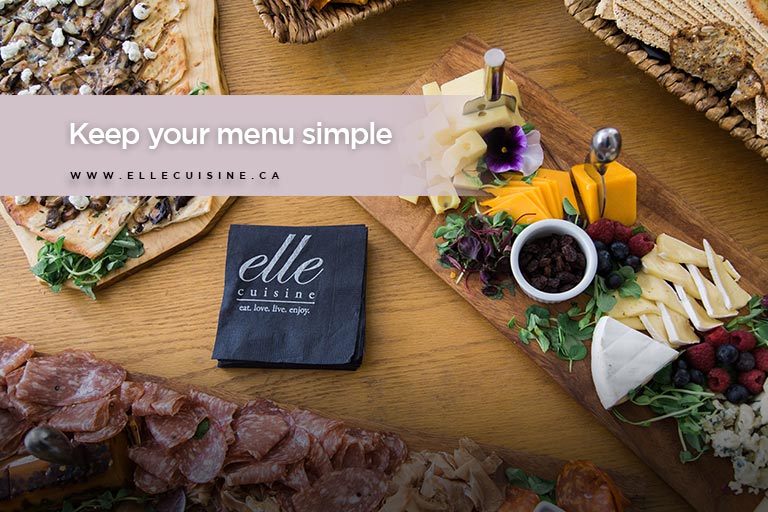 To cook a stress-free Christmas dinner, just keep your menu simple. There's less room for error when you make fewer items. A Christmas meal consisting of an entrée, two or three sides, and dessert are completely fine. Cooking the dishes you regularly make for Christmas helps eliminate some of the guesswork and keeps things a bit less hectic in the kitchen. If your specialty is mashed potatoes, include them in your meal. If you normally boil your carrots, don't roast them just because a celebrity chef on TV says so. If you have guests with dietary requirements, accommodate their needs the best you can, but don't be afraid to ask them to bring a dish to share. It's nice to experiment once in a while, but if you're going to try every single idea you can think of, you'll only exhaust yourself.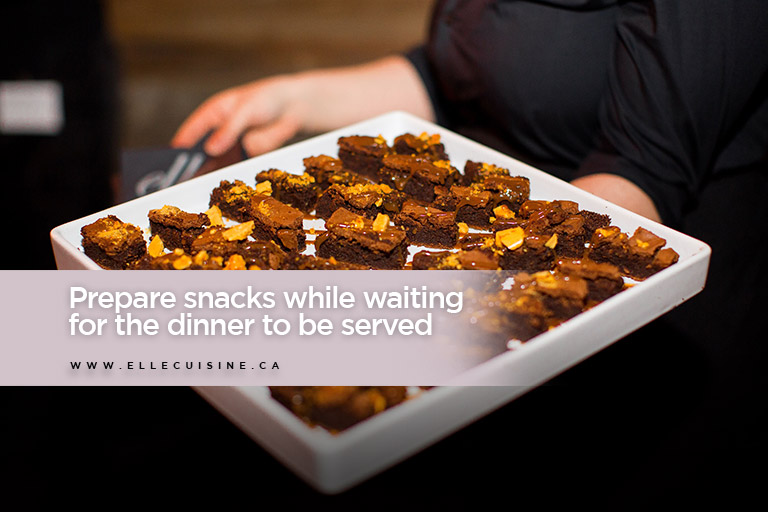 Timing is one of the most difficult aspects of dinner preparation, and it's easy to misjudge how long the turkey or ham takes to bake. Prepare some pretzels, a vegetable tray, dried fruit, or other snacks to keep hungry guests from approaching your kitchen and asking when dinner will be ready. You can also serve a pre-dinner glass of wine, but be sure your guests won't overindulge since you still have a dinner to get to.
You don't have to create everything from scratch, so make use of store shortcuts to save time. It's fine to use pre-made pastry for tarts and pies, to visit your favourite bakery for bread, cakes, and pies, or to crack open a jar of gravy. There's also no shame in getting Christmas dinner take-outs for foods that you can't prepare on your own. Before you begin cooking, go over your menu and see what items may be purchased ready-made, and then get to the supermarket as soon as possible!
Order ahead and order online
Supermarkets can be chaotic come Christmas day with all the last-minute shopping, and you don't want to be caught up in that. You can instead use this time to prepare for the occasion.
If the prospect of going to the groceries on Christmas day makes you shiver, save yourself the trouble and shop ahead of time and order online. Make a shopping list and place your order in the weeks leading up to Christmas. By arranging your orders ahead of time, you won't miss out on your favourite seafood, ham, beef, or turkey. All you have to do is sit and wait for them to arrive to start cooking.
At the end of the day, the smartest thing you can do to reduce stress is by choosing to keep your day stress-free. It's the holidays, after all, so simply try to unwind and enjoy the day with your loved ones.
Let us help you mount a memorable Christmas celebration. For a special Christmas dinner catering in Toronto, trust elle cuisine to provide you with restaurant-quality meals delivered straight to your dinner table. Call us today at 647.430.3553.